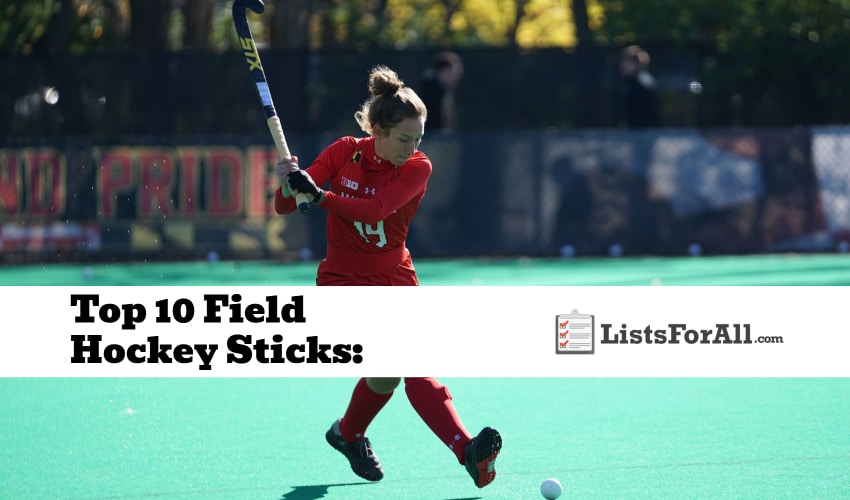 Best Field Hockey Sticks: Finding the Perfect Field Hockey Stick for You
There are a lot of factors to consider when buying a field hockey stick. You want to find one that feels comfortable in your hands, is the right length and weight, and has the features you need to play your best. In this list, we'll take a look at some of the best field hockey sticks and help you decide which one is right for you.
This list of the best field hockey sticks will highlight the top options and will help you find the perfect field hockey stick for you. Regardless of skill, age, size, etc., this list of the top field hockey sticks will have an option for you that will fit what you are looking for.
Still, looking for more sports-related content? Make sure to visit our lists of the best baseball gifts, best hockey gifts, and best football gifts. All of these lists will help you satisfy your sports cravings.
Top 10 Field Hockey Sticks:
Price: $75.00
Highlights: 5% carbon and 95% fiberglass, durable, and a heavier head for more power.
About Field Hockey Stick: The Byte HX2 Composite Field Hockey Stick is the perfect choice for any ambitious aspiring athlete. This stick is crafted with precision and care, creating an exceptionally durable and rigid design. With five percent carbon and ninety-five percent fiberglass construction, this stick is lightweight but still powerful enough to help you hone all your skills at a lightning pace.
It also boasts a midi toe that provides a balanced mix of speed and control, allowing you to be competitive during games or practice sessions. In addition, its heavier head allows for more power during swings, ensuring every shot adds to your success in winning each match.
Price: $138.90 – $154.80
Highlights: 40% carbon construction, extremely low bow shape, and designed for power and precision.
About Field Hockey Stick: Experience superior performance with the STX XT 401 Field Hockey Stick. This stick is set apart from all others with its advanced 40% carbon construction.
Fully constructed with quality materials, this model offers the competitive player an extremely low bow shape for dynamic movement across the field. Its engineering design makes it suitable for all types of play, ensuring power, control, precision, and speed.
Price: $49.95
Highlights: Fiberglass wrap, extended concept sport grip, and a reinforced toe.
About Field Hockey Stick: Built with a fiberglass wrap and reinforced toe, this stick ensures you have maximum control over your hit no matter the situation. With an extended concept sport grip, it'll make sure your hands don't slip on those intense shots.
Already trusted by many players in search of excellence, the CranBarry Falcon Field Hockey Stick is perfect for any fan of the sport looking to raise their skill ceiling.
Price: $40.00
Highlights: 100% fiberglass, wide surface area on the head of the stick, and a thin handle.
About Field Hockey Stick: This advanced stick is crafted with 100% fiberglass, creating a soft and forgiving feel to give you optimal control so you can hone your skills. The unique maxi-toe shape offers a wider surface area on the head of the stick, allowing for more proficient dribbles and stops.
Plus, its thin handle helps teach proper hand positioning to make learning reverse-side skills easier than ever before. Let this elegant and innovative stick take your game to the next level.
Price: $59.99
Highlights: 100% wood, classic mid bow, and good for both beginners and experienced players.
About Field Hockey Stick: This reliable field hockey stick is made from 100% wood construction, giving it a soft touch to help you receive and pass the ball easier than ever before. It also features a classic mid-bow that provides just enough flex and power to take your game to the next level. So whether you're an experienced all-round player or a beginner looking for an upgrade, the Estro 6 is perfect for your needs.
Price: $24.99
Highlights: High-quality grip, allows for quicker backswings, and offers excellent ball control.
About Field Hockey Stick: Featuring high-performance sports equipment, these sticks allow for a quicker backswing and are perfect to ace all of your stick-handling techniques. EachSimbra School Field Hockey Stick is designed with a high-quality grip to ensure you have the best control possible over the ball. And you'll get that extra power and elegant hitting power needed to truly improve your game.
Price: $99.95 – $109.99
Highlights: 25mm sweeping profile, 30% Carbon, 10% Aramid, and 60% fiberglass, and incorporates Reactive Liquid Polymer technology.
About Field Hockey Stick: This low bow stick will help you round out your entire skill set with its 25mm sweeping profile, offering assistance for players looking to become well-rounded with their skills. It's composed of 30% Carbon, 10% Aramid, and 60% fiberglass for a solid output that is still surprisingly light.
Plus, it incorporates Reactive Liquid Polymer technology to add a superior feel and touch so that your ball control will be second to none. With this incredible combination of features and benefits, you'll be able to stay ahead of the competition.
Price: $274.99
Highlights: 70% carbon composition, low bow shape, and textured toe grip.
About Field Hockey Stick: Introducing the STX RX 701 Field Hockey Stick, perfect for players of all levels. This top-of-the-line field hockey stick is built with precision, power, and control in mind. It features a low bow shape and an innovative textured toe for more grip and control on the ball.
Crafted from 70 percent carbon composition, its Countervail Vibration Canceling Technology ensures that players never have to sacrifice power for comfort.
Price: $119.95
Highlights: Features an ultra-low bow, both lightweight and durable, and made for ultimate ball speed.
About Field Hockey Stick: Score more on the pitch with the Adidas Chaosfury 4 Field Hockey Stick. The ideal stick for players looking to up their game, this lightweight and durable composite stick features an ultra-low bow that allows for game-breaking 3D skills, deceptive passing, and ultimate ball speed.
Price: $13.92
Highlights: Stylishly bold graphics, 25mm bow, and very durable.
About Field Hockey Stick: The Brine C300 Field Hockey Stick is an impressive stick packed to the brim with features and performance enhancements. It comes with a pleasing design, stylishly bold graphics, and a solid finish that makes it look great while offering superior durability.
With an advanced 25mm bow, you'll experience excellent power, precision, and control when handling this stick. You can depend on it for those tricky shots and crisp passes that you need in a pinch. The C300 from Brine offers reliable hits, passes, and long-lasting quality, ensuring your stick can go the distance as your skillset gets better each day.
Best Field Hockey Sticks Conclusion
After reading through this list, you should have a better understanding of the different aspects to look for when purchasing a field hockey stick. We hope that this list has helped you narrow down your search and find the perfect stick for you. Before you know it, you will be out on the field playing with your teammates and maybe even making the game-winning play!
It all starts with having the right field hockey stick, though. Without first having this valuable piece of equipment, you won't be able to get started playing.
And while some of these field hockey sticks may seem a bit pricey, they are an investment that will last with the proper care. These field hockey sticks are made of quality materials and will provide years of use if you properly take care of them.
Have you used one of these field hockey sticks before? Please feel free to share your feedback below if you have any.