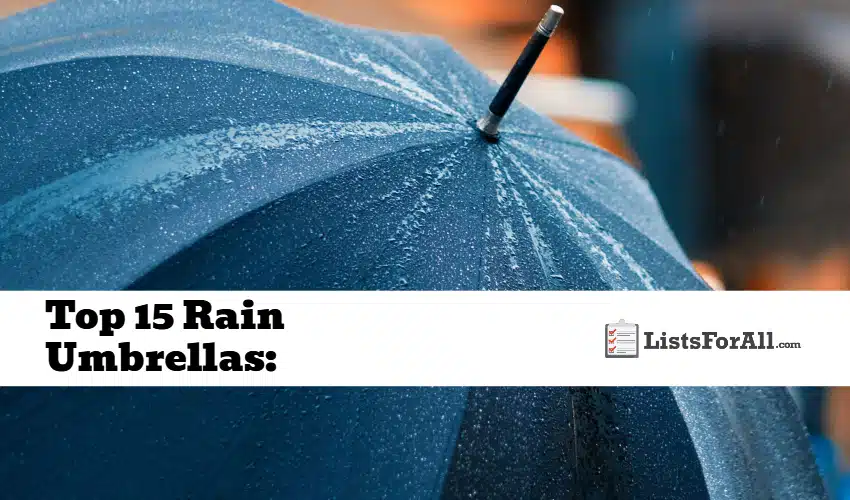 Best Rain Umbrellas: Finding the Perfect Rain Umbrella for You
Rainy days can often catch us off guard, but with the right umbrella by your side, you can stay dry while navigating through the stormy weather. It all starts with finding the right umbrella for you, though, and that is exactly what this list of the best rain umbrellas will allow you to do.
This list of the best rain umbrellas will highlight the top options and will help you find the perfect rain umbrella for you. Whether you prioritize a lightweight and compact design for effortless carrying or want a fashionable and eye-catching design to brighten up rainy days, this list has you covered.
When you finish this list of the best rain umbrellas, visit our lists of the best beach umbrellas and best golf umbrellas for even more great umbrella-related lists related lists.
Top 15 Rain Umbrellas: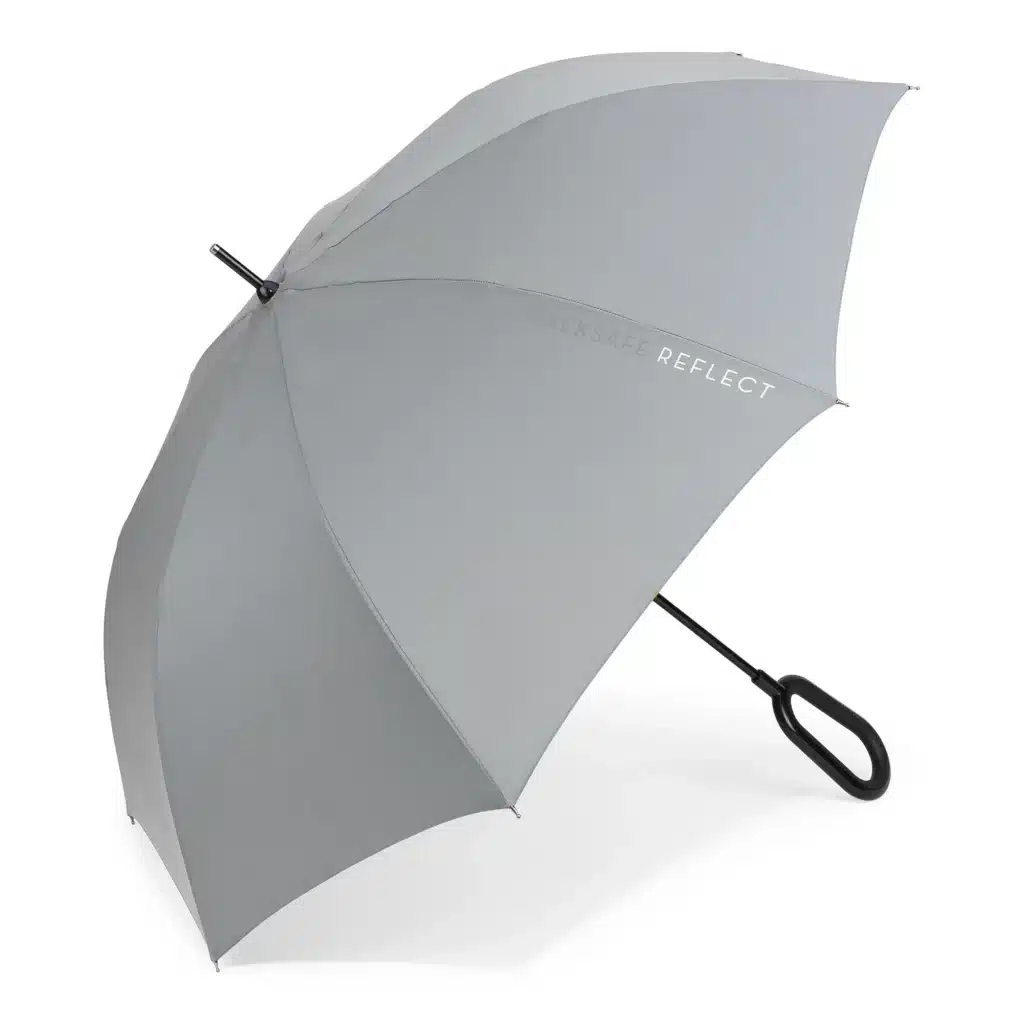 Price: $60
Highlights: Reflective, light and easy to carry, and offers plenty of coverage from the rain.
About Rain Umbrella: This revolutionary umbrella from Shed Rain will help keep you safe during dark and rainy days. With the Reflective Stick technology, you'll be highly visible on those late evening walks or rainy days. The specially crafted TPR rubber handle allows for hands-free use, and the lightweight construction makes it perfect for carrying along with you.
The 47-inch arc and 33.50 inches closed length also give it an elegant look while providing exceptional protection from the rain. Make your night walks as safe as possible with Walksafe's Reflective Stick Rain Umbrella.
Price: $29.99
Highlights: Teflon-coated fabric, maximum durability in harsh weather, and compact.
About Rain Umbrella: The Repel Rain Umbrella is one of the best rain umbrellas, and it offers the ultimate rain protection and is the perfect companion for your outdoor adventures. Crafted from Teflon-coated fabric, this umbrella is virtually windproof and waterproof for maximum durability even in the harshest conditions.
Its compact size makes it easy to carry on the go so that you can stay safe from the elements when you're out exploring. With its sturdy design, this umbrella is sure to keep you dry and protected from sudden gusts of wind.
Price: $39.00
Highlights: Maximum strength, an open-close feature that can be used with one hand, and can handle winds up to 70 mph.
About Rain Umbrella: Never let a storm ruin your day again with this reliable and compact umbrella, designed to provide superior protection in any condition. The Totes Rain Umbrella is built with maximum strength and an automatic open-close feature that is easy-to-use one-handed.
Safely endure heavy rain, strong winds up to 70 mph, and other elements with an invisible coating on the canopy made from NeverWet technology. This innovative technology will allow water to roll right off for superior water repellency and durability. The smart design of our umbrella ensures a much tighter fit when folded, so you can easily store it away between uses.
Price: $25.99
Highlights: Inside-out design, eight reinforced fiberglass ribs, and a 46-inch arc.
About Rain Umbrella: The LANBRELLA Rain Umbrella is an excellent choice for any rainy day. With its inside-out design, you won't get wet getting in and out of the car. Featuring eight reinforced fiberglass ribs, this awesome windproof umbrella can withstand even the strongest gusts of wind without ever turning inside out.
And with a 46-inch arc, you won't have to choose between gigantic windproof umbrellas or tiny ones that can't protect you from the rain. Plus, it's constructed with a high-density 210T waterproof material for superior waterproof function.
Price: $16.99
Highlights: Comes in several different colors, strong and durable, and can cover multiple people at the same time.
About Rain Umbrella: This incredible piece of engineering is the best rain umbrella on the market – and it comes in a variety of vibrant colors. It's more than just an impressive canvas for a rainstorm. The Strombergbrand Rain Umbrella is strong and durable enough to offer reliable protection from heavy downpours, giving you no excuse not to get out and enjoy everything life has to offer.
Plus, with its convenient size, it's perfect for covering yourself and several others at once. Whether you're going for a romantic stroll or chasing after artistic inspiration, this is the only umbrella you'll need. Not only will you stay dry with ease — but thanks to the wide closure that easily clicks in place — when your time outdoors is done, so is your umbrella.
Price: $29.99
Highlights: Comes in three different sizes, 190T pongee fabric, and also reflects heat.
About Rain Umbrella: With this quality umbrella, you can confidently go outside during the rain, knowing that you are dry and protected. Not only is it super functional, but the design is beautiful, too—it comes in three sizes to fit your needs. And with its 190T pongee fabric, it is also water repellent.
Plus, its silver coating isolates UV and reflects heat, blocking 99.95% of sun rays while providing over 50 UPF protection. The double canopy design also prevents inverting during high winds, so you won't be blown away easily.
Price: $11.99
Highlights: Black metal shaft, fiberglass ribs, and can withstand 55 mph wind gusts.
About Rain Umbrella: This top rain umbrella features an unbreakable design with a black metal shaft and fiberglass ribs that work together to ensure high resistance against even 55 mph wind gusts. Coming from an umbrella manufacturer with over 15 years of experience, you can trust their quality craftsmanship.
The canopy is made from premium 210T pongee fabric that provides ultimate water repellence – this means your umbrella won't be soaked quickly like some other umbrellas on the market. And there is no hassle when taking it with you – the auto open/close feature makes life much easier when entering a car, building, or tent quickly.
Price: $23.94
Highlights: High-quality carbon fiber, corrosion-resistant, and a double-layer canopy.
About Rain Umbrella: Step out in style and confidence with this Sharpty Rain Umbrella. A timeless classic designed with absolute elegance, this top rain umbrella consists of high-quality carbon fiber and is corrosion-resistant to handle the toughest of weather conditions.
Keep the rain and wind at bay while staying completely dry and comfortable with the double-layer umbrella canopy that provides superior protection that you can trust. Also, the inverted design prevents any water from dripping onto your clothes or the floor when you reach your destination – making it an ideal business accessory.
Price: $26.25
Highlights: Automatic open and close feature, Teflon-coated, and a quality handle.
About Rain Umbrella: This stylish option is one of the best rain umbrellas and has an automatic open and close feature, so you won't have to waste time fiddling with buttons. Plus, the Teflon-coated wind-guard canopy ensures that you stay dry even when the weather is less than ideal.
Also, its branded handle makes carrying it a breeze and adds a hint of luxury to your everyday look. The Samsonite Rain Umbrella fits easily into any daily routine – its 12″ folded length allows for convenient storage.
Price: $18.99
Highlights: Double canopy, a wooden handle, and is great for travel.
About Rain Umbrella: This Windproof Double Canopy Umbrella features an ergonomic wooden handle of classic style, making it both stylish and comfortable to use. Its large canopy can cover up to two people – that's double the protection from rain. For those on the go, its lightweight frame makes it easy to fit in your briefcase, backpack, or glove compartment.
Not only is this the perfect Travel Umbrella, but it is also built to withstand heavy use with a combination of the finest Dupont Teflon coating 210T, waterproof fabrics, and nine super strong dome ribs. The sleek black finish makes it a great gift idea for any occasion, and the LIFETIME replacement warranty policy ensures you'll be using this umbrella for years to come.
Price: $28.99
Highlights: Reverse folding design, compact and easy to carry, and ten reinforce fiberglass ribs.
About Rain Umbrella: The perfect companion for all kinds of weather, the Lejorain Rain Umbrella is here to keep you dry. Made with an upgraded reverse folding design, this top rain umbrella is easy to carry around and will keep you at ease while out in a rain storm.
Thanks to its ten reinforced fiberglass ribs, it can easily withstand strong winds and storms. Plus, the high-quality canopy made of 210T pongee material offers great water-repellent effects and dries quickly.
Price: $26.95 (2 count)
Highlights: Strong fiberglass frame, chrome-plated metal shaft, and easy to transport.
About Rain Umbrella: The PFFY Rain Umbrella is the ultimate in quality rain protection. Boasting a strong fiberglass frame, 10-rib reinforced construction, and a three-fold chrome-plated metal shaft for increased stability, this umbrella will keep you sheltered no matter what Mother Nature throws at you. Plus, with an automatic open/close function, it's easy to use with just the press of a button.
This lightweight and compact umbrella is perfect for both men and women and is guaranteed to keep you dry even during heavy rains or powerful gusts of wind.
Price: $89.29
Highlights: Rigorously tested, 38-point check, and is very durable.
About Rain Umbrella: This innovative umbrella has been carefully engineered from the inside out and rigorously tested in wind tunnels to ensure it's built to last – even at speeds beyond everyday use. When it comes to quality, each of our umbrellas undergoes a 38-point check before it reaches you.
And if you're still not impressed, how about the 2-year guarantee against manufacturing defects? The BLUNT Metro Rain Umbrella is a must-have for city dwellers seeking premier protection from the elements.
Price: $24.99
Highlights: Extra-large, double-canopy structure, and a heavy-duty design.
About Rain Umbrella: This extra-large golf umbrella is one of the best rain umbrellas and will keep you and up to four of your friends dry no matter what Mother Nature throws your way. The double canopy structure and heavy-duty design help keep it steady even in strong winds, so you won't need to worry about it flipping up and leaving you soaked.
Comfort is important too, which is why they have included a super comfortable rubberized anti-slip handle with a unique golf grip-like shape that fits almost all standard umbrella holders. And the 210T pongee micro fabric canopy is lightweight, quick-drying, and provides a whopping SPF 50+ sun protection.
Price: $15.99
Highlights: High-density micro fabric canopy, easy 0pen-close function, and a stylish handle.
About Rain Umbrella: This windproof folding umbrella is designed with superior water repellency and maximum protection from precipitation. A high-density micro fabric canopy will ensure no raindrop slips through, and a specially developed Teflon-Coating technology ensures your waterproof umbrella dries quickly. And what's more, the easy open-close function allows you to open and close it with just one press of a button.
The ergonomic design comes with an extra sturdy wooden handle, providing a comfortable grip and a wrist strap for easier carriage. Not only does this stylish umbrella complete your look in style, but it also offers full coverage so you can step out confidently even in unforeseen weather, making it the perfect travel partner for all kinds of outdoor trips.
Best Rain Umbrellas Conclusion
These top rain umbrellas have been chosen for a number of different reasons. Whether it is their impressive water resistance, sturdy construction, innovative features, etc., you can know that they are a reliable shield against the elements and will keep you dry.
With this list of the best rain umbrellas, you can take on the rain and get where you need to be in the rain, all while staying dry.
Have you tried any of these rain umbrellas before? If you have, please comment below with any thoughts that you may have.