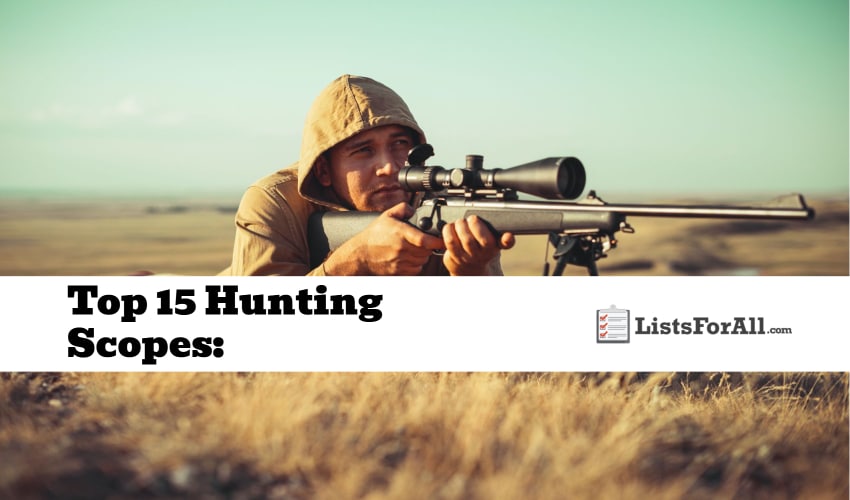 Best Hunting Scopes: Finding the Perfect Hunting Scope for You
Are you considering purchasing a hunting scope? If so, it's important to do your research in order to find the best one for your needs, which is where this list of the best hunting scopes can help you out.
This list of the best hunting scopes will feature the top options and will allow you to better see your prey on your next hunting trip. With this list, you'll get to know which scopes are the best for all types of hunting, from small game to big game and more. 
If you are looking for more hunting-related lists, our lists of the best hunting binoculars, best hunting backpacks, and best hunting knives will provide even more valuable content.
Top 15 Hunting Scopes: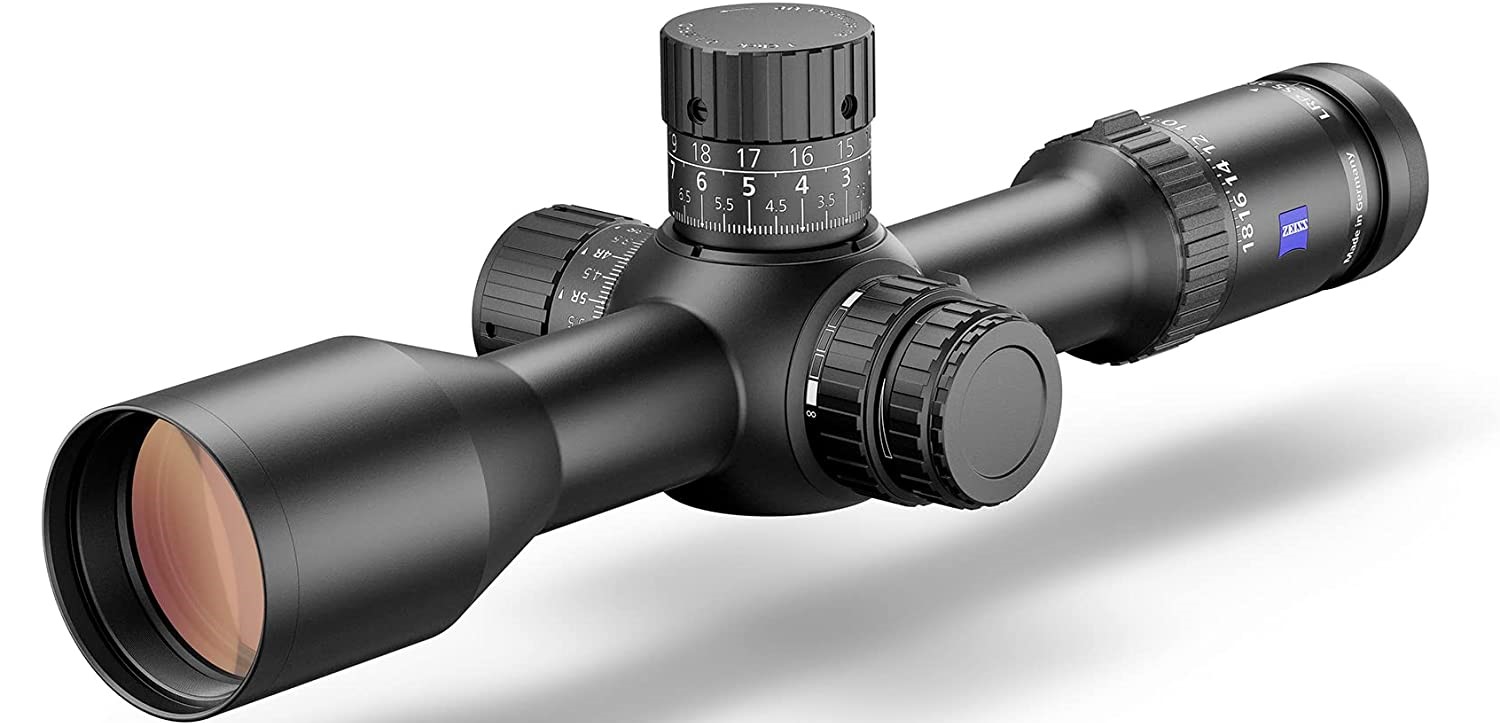 Price: $3,499.99
Highlights: Lightweight, 13 inches in length, and precise controls.
About Hunting Scope: This incredible long-range precision scope combines all of Zeiss's best-in-class glass with precise controls, making it an ideal choice for both target shooting and hunting. You won't get bogged down by a heavy or unwieldy scope – the LRP S5 is lightweight and measures 13 inches in length, allowing for ultimate versatility when it comes to mounting options.
Price: $201.64 – $429.99
Highlights: Single-piece tube, aircraft-grade aluminum, and fully multicoated optics to reduce reflected light.
About Hunting Scope: The Blackhound Optics Genesis 1-4×24 FFP MOA is one of the best hunting scopes you can find on the market. Boasting a single-piece tube constructed from aircraft-grade aluminum and an O-ring seal and nitrogen purge to ensure waterproof and fog-proof performance, this hunting scope is the perfect short- to mid-range compliment to your shooting arsenal.
The Blackhound Genesis features advanced, fully multicoated optics that are designed to reduce reflected light while increasing the transmission of light, giving you better clarity and brighter images in all light conditions. The aircraft-grade aluminum makes it incredibly strong and shockproof while also being lightweight, so you never have to worry about your scope being too heavy or cumbersome.
Price: $1,800.00
Highlights: 5-30×56 magnification, first-focal plane MOA, and easy one-handed adjustments.
About Hunting Scope: The Maven RS.4 Hunting Scope is an excellent tool to help put you right where you want to be – at the top of your game. With its first-focal plane MOA-based reticle and 5-30×56 magnification, this scope gives you a clear view of your target, so you can make quick and accurate adjustments with just one hand.
Its incredibly smooth adjustments, versatility, and crystal clear glass will make all the difference when hunting and competing in NRL22 competitions.
Price: $699.99
Highlights: Ranges up to 600 yards, easy-to-adjust dials, and uncomplicated loadout.
About Hunting Scope: The Leupold VX-3HD Hunting Scope is the ideal choice for any hunter looking for an uncomplicated yet reliable loadout. Built off of Leupold's tried and true VX line, this weapon sight offers superior performance that is designed to last. Whether you're hunting large game at ranges of 500 or 600 yards or even getting a precise shot in on your AR or shotgun, this scope has you covered.
If precision accuracy is what you're after, then the VX-3HD won't disappoint. This rugged and dependable rifle scope eliminates the need for holdovers or ballistic calculations with its easy-to-adjust dials that are made specifically to match your gear. It'll keep you ready to hit whatever mark it's placed on in an instant.
Price: $169.99 – 299.99
Highlights: Exposed tactical turrets, zero reset feature, and easy-to-spot optic rotation indicators.
About Hunting Scope: Sporting exposed tactical turrets, this scope gives precise bullet drop and wind drift compensation at extended ranges. That's right – precise. As if that weren't already impressive enough, these turrets can track better and always come back to zero.
Plus, the zero-reset feature lets you re-index the zero reference marks on both turrets after sighting in with easy-to-spot fiber optic rotation indicators integrated into your scope. Take every shot with confidence knowing you've got a scope that can handle anything you're hunting for.
Price: $2,128.78
Highlights: Smooth windage and elevation adjustments, 5x zoom system, and illuminated reticle.
About Hunting Scope: This rifle scope will make your hunt as easy as possible, with smooth windage and elevation adjustments and tactical-appropriate reticles featuring fantastic resolution and glass clarity. With its 5x zoom system, it is simple to acquire targets at longer distances with minimal necessary adjustments.
For those seeking even more convenience, you can align and focus your scope on down-range objects in just a few clicks. The illuminated reticle also makes focusing effortless – plus, its brightness adjustments ensure the perfect level of contrast for any environment.
Price: $400.16
Highlights: Entry-level scope, lightweight at 21 ounces, and close focus configuration for .22 matches.
About Hunting Scope: This entry-level scope is excellent for whitetail deer hunting and other outdoor adventures. This scope will have you zeroed in with precision, giving you an edge over your competition. The Vantage 30 Hunting Scope features capped turrets and precise parallax focus, making it a truly top-notch product suited to many different scenarios.
With center-dot illumination displays, you can easily make out your aim regardless of what light conditions you're competing in. Plus, it's light enough for even mountain rifles at only 21 ounces. And if that wasn't impressive enough, it also has a close-focus configuration for .22 matches.
Price: $3,850.00
Highlights: Engages targets out to 1200m, ED glass technology, and advanced elevation systems.
About Hunting Scope: Discover a higher caliber of performance with the Nightforce ATACR Hunting Scope – one of the best hunting scopes you can buy. It has been endorsed by USSOCOM as the Mid-Range and Designated Marksman optics for engaging targets out to 1200m, making it an ideal option for any serious hunter.
The features don't end there. The Nightforce ATACR contains ED glass technology, patented adjustments, ZeroStop innovation, and advanced elevation systems that provide pinpoint accuracy, all while maintaining a rugged strength that can withstand even the harshest weather conditions. Its clear optics and crisp image give you an unmatched level of detail and clarity to spot your quarry from long distances.
Price: $1,499.00
Highlights: Elevation and windage references, locking elevation dial, and MOA-based reticle.
About Hunting Scope: If you're an avid hunter and strive for accuracy from long distances, the Vortex Razor Hunting Scope is here to propel your skills to the next level. Suited for all sorts of hunting, this hunting scope is engineered for precision with Vortex's renowned glass optics and finely-tuned controls.
With the MOA-based reticle and plenty of elevation and windage references, you'll be able to fly bullets on target at max ranges. For those who prefer the precise turning of dial turrets for a more precise aiming solution – fear not. The locking elevation dial has been finely tuned by Vortex experts, so you can easily make accurate adjustments.
Price: $550.00
Highlights: 2-10×38 second focal plane riflescope, lightweight at 12 ounces, and waterproof and fog-proof exterior.
About Hunting Scope: The RS.2 is a 2-10×38 second focal plane riflescope, making it a versatile choice suitable for mid-range shooting and various types of game. Weighing in at only 12 ounces, this is one of the lightest high-quality scopes on the market.
It also comes with either Duplex MOA or SHR MOA reticles, waterproof and fog-proof exterior anodizing for maximum strength, and ED glass for extra-low dispersion—all at less than half the price of other Maven optics.
Price: $1,499.00
Highlights: 10x zoom lens, delivers up to 89% light transmission, and first-plane LE-5 reticle.
About Hunting Scope: Experience unmatched accuracy and reliability with EOTECH's Vudu Hunting Scope. This top-of-the-line optical scope has been engineered to provide you with the most precise control over your shot. Whether you are hunting or shooting for precision marksmanship, the Vudu 1-10×28 is the perfect tool for any hunter.
Enjoy amazingly clear viewing at any magnification thanks to the powerful 10x zoom lens with premium coatings delivering up to 89% light transmission. The generously wide field of view ensures extensive ranging while pinpoint accuracy makes it easy to precisely identify targets – even in challenging light conditions.
Plus, a first-plane LE-5 reticle functions as a close-quarters red dot scope at low magnifications and enables precision that only comes from a quality optic like this one. For hunters who strive to be successful no matter their environment, the EOTech Vudu Hunting Scope helps them achieve greatness on their next expedition.
Price: $999.00
Highlights: Functional, intuitive reticule, detailed hold points, and good for long-range shooting.
About Hunting Scope: This highly popular tactical scope is perfect for long-range shooting and distance ranging, thanks to its clear glass and functional, intuitive reticule. With detailed hold points and a lack of clutter, you'll be able to take your shots with confidence. So don't miss your chance to get your hands on this top-of-the-line scope.
Price: $478.39
Highlights: Covered turrets, second-plane MOA-based reticle, and 50mm objective.
About Hunting Scope: With this scope, you get the versatility of a crossover between a hunting and target scope that has all the features for the job. Whether you're using this for your everyday centerfire rifle or your spirit-lifting rim shot, no matter what Mother Nature throws at you, Athlon is ready to help you pull off the perfect hunt.
Rock solid performance and exceptional glass quality give it an edge in shooting accuracy, while its covered turrets and second-plane MOA-based reticle provide unmatched convenience. The 50mm objective provides clarity even in less-than-ideal lighting conditions – so there won't be much to stop you from making that dream shot.
Price: $999.99
Highlights: Top-quality glass, clarity under harsh conditions, and high magnification capabilities.
About Hunting Scope: This is one of the Best Hunting Scopes on the market and has been thoroughly tested.   Whether you're in need of a scope that offers top-quality glass, brightness, and clarity under harsh conditions or high magnification capabilities – the VX-5HD has you covered.
Thanks to superior engineering, exquisite design, and lightweight structure – aspiring nature lovers everywhere can trust Leupold's definitive scope to lead them to success on their next trip.

Price: $724.00
Highlights: Extra Low Dispersion (ED) objective lenses, SCHOTT HT glass, and Glass Etched T-Plex reticle.
About Hunting Scope: This powerful optic provides crystal-clear images even in low light hunting conditions thanks to its Fully Multicoated, Ultra High Definition optical system and Extra Low Dispersion (ED) objective lenses that help eliminate color fringing. Moreover, the scope utilizes SCHOTT HT (High Transmission) glass to provide superior light transmission, ensuring your targets are clear as day.
Additionally, the Glass Etched T-Plex reticle takes the standard Plex-type reticle to another level by eliminating the thick top vertical post, creating a cleaner field of view while still allowing your eye to quickly find center crosshair for fast target acquisition. With this revolutionary counterbalance technology, you can feel confident knowing that each shot will be accurate every time.
Best Hunting Scopes Conclusion
When it comes to choosing a hunting scope, there are a variety of factors to consider. The most important thing is to find one that suits your specific needs.
With this list of the best hunting scopes, you'll be sure to find the right scope for your next hunt. This will allow for a more successful hunt and more great memories to be made.
Is there a hunting scope that you think should be on this list but isn't? Please feel free to share it below if so.