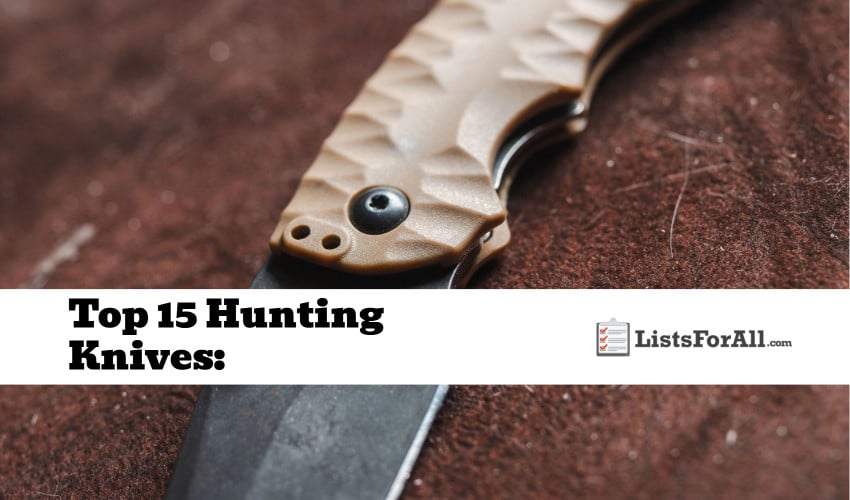 Best Hunting Knives: Finding the Perfect Hunting Knife for You
Knives are one of the most important tools a hunter can carry. A quality knife can assist in many tasks, so it makes sense to find the right one for you, and that is where this list of the best hunting knives can help you out.
This list of the best hunting knives will highlight the top options and will help you find the perfect knife for your next hunting trip. With this list, you can make sure that you are prepared for all your cutting needs when you are out in the wilderness. 
If you are looking for more hunting-related lists, our lists of the best hunting backpacks, the best hunting binoculars, and the best hunting arrows will have you covered.
Top 15 Hunting Knives:
Price: $89.49
Highlights: Crafted with S30V steel, a 3.125-inch blade, and a slip-proof handle.
About Hunting Knife: This top hunting knife is a force to be reckoned with and will come in handy for even the most extreme of hunting tasks, including quartering and processing multiple elk. You can count on it to hold up despite harsh conditions or hard work.
Crafted with S30V steel in mind, the Buck113 Ranger Hunting Knife provides users with durability that won't fail them. Not only does this steel hold its edge after every hunt, but it also offers fantastic results and outperforms most other competition. Furthermore, it boasts a 3.125-inch blade which makes cutting easier while still allowing for perfect control over your movements.
Not to mention, the handle material is slip-proof and crafted into an excellent shape that shields your hand from sliding away when you're in operation.
Price: $142.79
Highlights: Italian-made, Bohler's M390 steel blade, and a comfortable olive handle.
About Hunting Knife: This sleek Italian-made hunting knife is designed to be the perfect balance of portability and utility, allowing you to carry it conveniently without sacrificing performance or durability.
It features a blade made from Bohler's M390 steel with outstanding edge retention and corrosion resistance, as well as a comfortable olive handle. All in all, this is one hunting knife that strikes an amazing balance of quality and style.
Price: $114.99
Highlights: Premium S35VN steel blade, bright orange handle, and a solid grip texture etching.
About Hunting Knife: Crafted from premium S35VN steel, this quality hunting knife effortlessly retains its sharp edge through extensive use and won't let you down when out in the wild. It's designed for hunters, so it is optimized for cutting through hides, breaking up bones, and more.
And as a bonus, its bright orange handle makes it easy to spot – even in low-light conditions. With a solid grip texture etching on the blade's side that provides a secure yet comfortable hold at all times, this versatile hunting knife will become your go-to tool for any outdoor adventure.
Price: $19.00
Highlights: High-carbon steel blade, palm swell handle, and 3.25-inch blade.
About Hunting Knife: The Opinel No.08 Hunting Knife is an excellent tool for outdoor enthusiasts looking to equip themselves with one of the best hunting knives available without breaking the bank. With its classic design, high-carbon steel blade, and top-notch palm swell handle, this knife is ideal for those who need a reliable companion for hunting small- and mid-size game.
This incredible knife has been trusted by outdoorsmen since it was first manufactured in France over 100 years ago – way back in the 1880s.
Price: $138.95
Highlights: Japanese VG-10 steel blade, corrosion-resistant steel, and a directional handle shape.
About Hunting Knife: This knife is designed with every outdoor enthusiast in mind, with its durable and almost maintenance-free body, as well as its top-of-the-line Japanese VG-10 steel blade. This corrosion-resistant steel will make sure your knife is kept in pristine shape under any conditions.
A directional handle shape provides an outstanding grip, wet or dry, perfect for the hunting terrain. With 1 inch of jimping on the blade's spine adding to your grip confidence when cutting raw meat, you can be sure you are always prepared and in control.
Combined with its fiberglass reinforced nylon handle and a superbly sharp VG 10 stainless steel blade, this low-maintenance knife has been manufactured to help take your gunning or hunting experience to the next level – highly efficient cuts and comfortable holding, whether wet or dry.
Price: $180.00
Highlights: 3.54-inch blade, an overall length of 7.76 inches, and a deep drop-point design.
About Hunting Knife: This high-quality tool is ideal for hunters of all levels, from novice to experienced hunters. It has a 3.54-inch blade and an overall length of 7.76 inches, making it compact enough to easily process any type of game. And its deep drop-point design ensures each cut is effortless – reducing the chances of botched jobs and making the process more efficient.
Constructed with durable material, it will stand up against tough conditions and heavy use without compromising performance or reliability. The updated jimping location also gives you better control over your cutting-edge and more accurate results.
Price: $12.90
Highlights: Stainless steel blade, sturdy plastic handle, and durable enough for hammering.
About Hunting Knife: When it comes to tough and reliable hunting knives, it doesn't get much better than the Morakniv Craftline Hunting Knife. This affordable yet rugged outdoor essential is a true fit for even big-game hunting and has been tested on some of the toughest tasks.
Durable enough to handle hammering, this stainless steel knife has a sturdy plastic handle that's easy to spot when you set it down and is light enough that increases its versatility. Use this blade to easily gut your fish or break through even a deer's pelvic bone – no task too small or large.
Price: $109.95
Highlights: Thick, large blade, equipped with a ferro rod, and crafted from cocobolo wood.
About Hunting Knife: The JEO-TEC Nº29 Hunting Knife is built to withstand the toughest terrain and weather conditions; it features a thick, large blade that is perfect for batoning logs into firewood, and its long, flat grind and positive grip from the handle make it ideal for butchers. Plus, it is equipped with its own ferro rod, so you can create fire.
Price: $107.99
Highlights: Included Field Strip technology, 3-inch blade, and titanium nitride-coated AUS-8 stainless steel.
About Hunting Knife: The Homefront Hunter from CRKT is an excellent solution for when you need a folding knife but don't want to put up with the vulnerability associated with them. Thanks to its included Field Strip technology, hunters can easily disassemble or reassemble this incredible knife without having to use any tools.
But aside from its technological wizardry, the Homefront Hunting Knife looks fantastic as well. Its sleek design features a 3-inch blade made from black titanium nitride coated AUS-8 stainless steel that will never look out of place — whether your prey is on land or sea.
Plus, it comes equipped with several other features, such as its sturdy lock-back deployment and a composition handle that helps ensure you always have a secure grip during any type of weather condition imaginable. It's even 100% waterproof, so you can take it with you wherever life leads.
Price: $193.00
Highlights: 1.8 ounces, free lifetime mail-in sharpening, and precision-grade construction.
About Hunting Knife: For the serious hunter, the Argali Carbon Hunting Knife is an excellent option. Whether you're out in wet and wild conditions or just looking for a go-to everyday knife, this featherweight knife – just 1.8 ounces – is your ideal companion. With its exceptional balance, incredible agility, and unwavering assurance of grip in tough environments, Argali brings you a top-class hunting knife.
Price: $43.99
Highlights: 440 stainless steel blade, rosewood/root wood handle, and a dark brown leather sheath.
About Hunting Knife: Experience the perfect combination of form and function with the Boker Magnum 02GL683 Elk Hunter Knife. With its sleek 440 stainless steel blade and gorgeous rosewood/root wood handle, this knife is as attractive as it is reliable. Ideal for difficult conditions, it's backed by a limited lifetime warranty, so you can rest assured it'll stay in top shape for years to come.
The world-famous Boker knife manufacturing plant represents over 145 years of innovative craftsmanship and attention to detail, so you know you're getting a quality product. And don't forget about its dark brown leather sheath – keep your sharp blade safe and sound while you're on the go.
Price: $24.50
Highlights: 4116 stainless steel, simple design, and extremely dependable.
About Hunting Knife: The Cold Steel Hunting Knife is an excellent tool for any hunter. With a blade made of German 4116 stainless steel, it is built to last and can handle any processing tasks you need it to. The simple design is perfect for the rugged dependability you need in the field and will allow you to take on the great outdoors with confidence.
Price: $78.00
Highlights: Exchangeable-blade system, non-slip handle, and unbeatable sharpness.
About Hunting Knife: This innovative hunting knife features the safest exchangeable-blade system, so you can keep a surgically sharp blade ready and replaced in seconds. You won't have to worry about sacrificing quality for convenience – this knife is strong enough to quarter big game in the field with ease. Plus, the sleek design and non-slip handle ensure total control when showing your kill.
Price: $189.00
Highlights: Limited edition, 14C28N steel blade, and a curly birch handle
About Hunting Knife: This limited edition hunting knife will help you become the hunter you've always wanted to be. With an upgraded 14C28N steel blade, the Temagami is incredibly sharp and a great option for use in survival or bushcraft.
Its unique scandi grinding ensures top-quality woodworking and precise skinning. And, of course, one look at that gorgeous curly birch handle and you'll know why this knife is an excellent option.
Price: $139.86
Highlights: Ergonomic handle design, superior customer service, and good for survival tasks.
About Hunting Knife: Manufactured with extreme precision and attention to detail using the best materials available, this superior knife will take your hunting game to the next level. The ESEE-4 features an excellent blend of cutting efficiency and overall thickness – perfect for any outdoor task.
No matter what your mission is, you can trust ESEE to equip you with the right tool for the job. With its razor-sharp edge, ergonomic handle design, and durability, this is one knife that won't let you down in even the toughest situations.
Best Hunting Knives Conclusion
When it comes to hunting knives, there are many options to choose from. However, not all knives are created equal, and it is important to find the right knife for you and your needs. This list of the best hunting knives has hopefully helped you narrow down your search and helped you find the perfect hunting knife for you.
Remember to consider what type of hunting you will be doing, as well as what other features you may want or need in a knife. This will ensure that all of your needs are met and that you can carry a knife with you that allows for full confidence.
Is there a hunting knife that you think should be on this list but isn't? Please feel free to share it below if so.