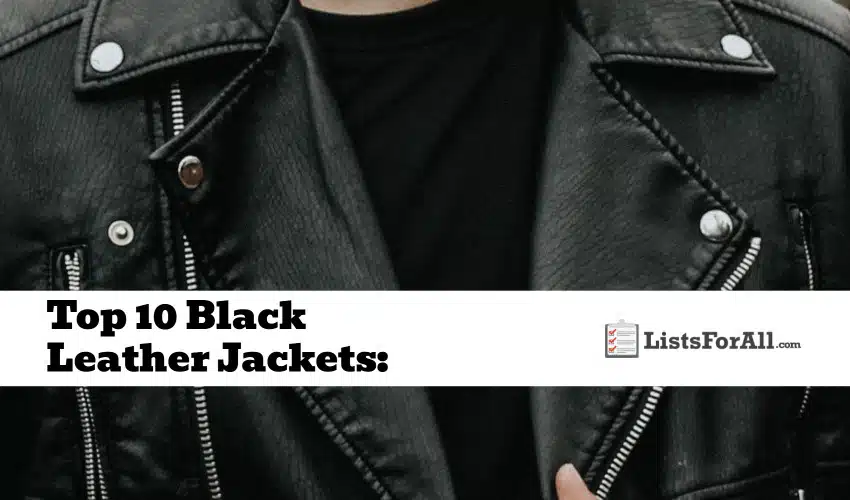 Best Black Leather Jackets: Finding the Perfect Black Leather Jacket for You
A black leather jacket is a wardrobe staple that never goes out of style. But with so many different options, it can be overwhelming to find the perfect one for you. That's why we've compiled a list of the best black leather jackets.
This list of the best black leather jackets will highlight the top options and will help you find the perfect leather jacket for you. From classic to edgy, these jackets are sure to be a mainstay in your wardrobe for years to come.
After you finish this list of the best black leather jackets, our lists of the best jeans brands for men and best cowboy boot brands will give you something to wear with one of these new black leather jackets.
Top 10 Black Leather Jackets:
Price: $61.14
Highlights: Classic faux leather, zipper closure, and a variety of pockets.
About Leather Jacket: This top leather jacket features classic faux leather motorcycle jacket details with buffalo plaid lining, zipper front closure, epaulets on shoulders, and detailed zipper cuffs, giving you the authentic look of a traditional motorcyclist. And not to worry; it's extremely durable and won't easily tear or become frayed in time.
Plus, it has a variety of pockets for all your must-haves, like a welt chest zipper pocket, two lower welt zipper pockets at the waist, and one small coin pocket with snap closure. There's even an interior welt pocket with a snap closure so you can keep your valuables safe and secure while out on the road.
Price: $63.22 – $80.07
Highlights: Faux leather, adjustable snap cuffs, and a box-quilted lining.
About Leather Jacket: The Dockers Faux Black Leather Jacket is one of the best black leather jackets you can get. With its zip front closure and adjustable snap cuffs, it will give you a secure and comfortable fit, so you are looking your best. The interior box-quilted lining provides extra warmth when the temperature drops, while the easy-care shell fabric is water-resistant and tough enough to handle outdoor elements.
Plus, for added storage and security, there are two lower welt pockets at the waist and an interior zipper pocket with signature Dockers branding. Whether you're running errands or headed out on an adventure, this jacket has got you covered in style.
Price: $149.99
Highlights: Motorcycle jacket design, genuine lambskin, and a warm interior lining.
About Leather Jacket: This stunning black leather jacket is the epitome of classic cool style. It features a spread collar, YKK front zipper closure, and an adjustable fit that'll give you the look you desire. Whether it's to keep warm in chilly temperatures or to accentuate your outfit with effortless style, this jacket has got you covered.
Not only do you get that iconic biker men's jacket look, but this motorcycle men's jacket is also windproof –so whatever the weather, you can brave any storm in comfort and confidence. And did we mention how effortlessly fashionable it is? You will look good no matter where you go with this genuine lambskin leather jacket.
Price: $279.90 – $297.49
Highlights: Fine black leather, classic design, and down-alternative insulation.
About Leather Jacket: This timeless wardrobe staple has been designed with quality materials and craftsmanship, delivering the utmost performance and style that's sure to turn some heads. Crafted from fine black leather, this collared jacket features welt side-entry pockets for an all-day comfortable fit.
Not only will you look polished in this classic piece, but you'll also stay warm in even the coldest climates, thanks to its down-alternative insulation. Whether you want to add a refined touch to your outfit by wearing it over a t-shirt or sweater or give your look an edge by styling it over a pair of jeans or joggers, no matter the occasion–this jacket is sure to have you looking like you belong in any room you walk into.
Price: $138.99 – $179.99
Highlights: Hand-crafted, quality lambskin leather, and is very soft to the touch.
About Leather Jacket: This exceptionally crafted piece is hand-crafted using the highest quality lambskin leather, ensuring breathability and comfort in all seasons. The inner lining of this jacket has been designed to be especially soft, providing you with an unparalleled comfortable experience. Keep warm without having to compromise on style.
LaVerapelle's black leather jacket is truly a mark of sophistication and taste; it has been tailored to perfection to walk the line between handsomeness and ruggedness. The leather used has impeccable quality, durability, and softness that will ensure long life and lasting style.
Price: $129.99
Highlights: 100% lambskin, original zip closure, and a polyester lining for added comfort.
About Leather Jacket: Anyone can feel confident knowing that they are wearing genuine leather, with 100% lamb skin construction providing a luxurious feel. The modern black colorway is incredibly attractive and easy to pair with any outfit, while the original zip closure ensures a secure fit.
Two outside pockets and an inside pocket allow you to store your essentials safely on the go, while the polyester lining ensures comfort while wearing.
Price: $45.98
Highlights: Eco-friendly artificial leather, polyester lining, and a stylish hood.
About Leather Jacket: This classic black leather jacket is crafted with high-quality 100% polyester on the inside and eco-friendly artificial leather on the outside — resulting in a breathable, comfortable fit that will keep you warm against cold winds, rain, and snow.
There are three styles to choose from and an array of colors, allowing you to stand out from the crowd even when venturing into the great outdoors — be it bike racing, motorcycle riding, or travel leisure. And if you're constantly moving between school or work with special nights out for theme parties, HIJEWE modern faux leather jackets serve as a timeless wardrobe staple that can adjust to any dress code.
Price: $45.56 – $71.58
Highlights: Faux leather, interior zipper pocket, and comfortable rib-knit detailing.
About Leather Jacket: This stylish and luxurious jacket is made from faux leather, making it a great staple piece in any man's wardrobe. From the two curved lower welt pockets with an additional interior welt zipper pocket for added storage to the comfortable rib knit detailing around the inside collar, cuffs, and hem, this jacket will become your go-to look.
You'll appreciate the water-resistant outer shell that makes this jacket easy to care for; plus, it's perfect for transitioning between seasons or layering up when needed. Its center front zipper makes it simple to get on and off while keeping you warm and comfortable too.
Price: $209.99 – $249.99
Highlights: Expertly crafted, premium milled cowhide leather, and a zip-out thermal lining.
About Leather Jacket: The Milwaukee Black Leather Jacket is the latest must-have item for all your style needs. Expertly crafted from premium milled cowhide leather, this jacket is extremely durable yet comfortable enough to wear all season long. Fully equipped with a zip-out thermal lining, you can adjust the warmth of this top leather jacket as needed.
Price: $61.98 – $67.97
Highlights: Medium-thick jacket, premium faux leather, and a pongee inner lining.
About Leather Jacket: Step out in style without sacrificing comfort and protection with the Wantdo Black Leather Jacket. This stylish medium-thick jacket is the perfect jacket for any season – made from premium faux leather; it has a pongee inner lining that provides enough warmth to get you through early spring and autumn.
A double-zipper closure protects you from wind and rain, while the stand collar and outer shell layer add an extra layer of defense against storms.
Best Black Leather Jackets Conclusion
A quality black leather jacket is a timeless addition to any wardrobe. Whether you prefer a classic or edgy look, the above jackets should help you find exactly what you are looking for.
Remember to keep in mind factors such as leather quality, style, and customization options when making your decision. But with all of these top black leather jackets, you really can't go wrong with any of them.
Is there a leather jacket that you think should be on this list but isn't? Please feel free to share it below if so.