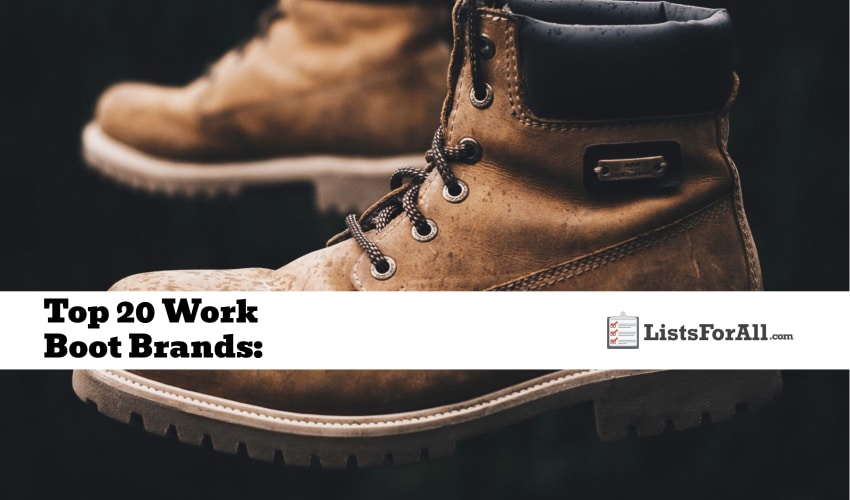 Best Work Boot Brands: Finding the Perfect Work Boot Brand for You
If you're looking for a new pair of work boots, you'll want to check out this list of the best work boot brands. There are a lot of different options out there, so it can be tough to decide which ones are right for you. Here are some of the top brands for work boots, based on quality and durability.
This list of the best work boot brands will feature the top options and what makes each brand stand out from the rest. Whether you're looking for a waterproof construction boot, an athletic work boot or a lightweight hiker, you'll find the best selection of boots for any job.
A few other lists that you might benefit from after reading through this list of the best work boot brands are our lists of the best ear protection, best eye protection, and best power tool brands. All of these lists will pair well with this one and will make sure that you have everything you need on the job site.
Top 20 Work Boot Brands:
Founded: 1925
Highlights: Very durable, sold all over the world, and has an impressive selection of different styles.
About Work Boot Brand: Caterpillar Footwear is inspired by the iconic Caterpillar Tractor Co. and the innovative minds that shaped their enduring legacy. Established in 1925, when Benjamin Holt and C.L. Best merged two of the greatest manufacturing companies, they proved what's possible when you bring together determined and curious minds. This inspiring spirit has been captured in every pair of Caterpillar boots, which are not only made for hard work but stand for something greater: the possibility of a better world.
Built to last under any conditions with craftsmanship you can trust, Caterpillar Footwear is designed with a purpose beyond any individual product. Known as one of the best workboot brands around, it is sold in over 120 countries and territories worldwide. From construction sites to fashion street shows, Cat Footwear boasts an impressive selection of styles, offering a unique combination of strength and style for all occasions.
Founded: 1889
Highlights: Over 130 years of experience with the company, extreme durability, and innovative features.
About Work Boot Brand: Born from the harshness of Michigan's industrial era in 1889, Carhartt has become the go-to workwear brand for those who serious about quality and durability. Whether you're pounding rails or pounding soil, Carhartt's boots will have your back with their robust design, durable construction and innovative features.
With over 130 years of experience perfecting the art of hardworking apparel and accessories, it's no surprise that Carhartt stands out among the best Work Boot Brands on the market today.
Founded: 1870
Highlights: An array of winter, work, and fashion-ready boots, in business since 1870, and keeps your feet warm and comfortable all day long.
About Work Boot Brand: Blundstone has been a staple in winter wear for over 150 years and counting. This revolutionary work boot company was started by John Blundstone in Hobart, Tasmania in 1870, with the goal of providing high-quality and durable boots to meet any need.
With quality materials, unique designs like the Chelsea boot, and a commitment to values like innovation and responsibility, Blundstone offers an array of winter, work, and fashion-ready boots for anyone. Get ready for those cold days ahead with a pair of classic yet stylish Blundstones that will keep your feet warm and comfortable all day long.
Founded: 2003
Highlights: Redesigned for superior cushioning and arch support, latest technology for waterproofing, and slip-resistant outsoles.
About Work Boot Brand: Built with comfort in mind, KEEN's shoes have been redesigned to fit your feet better while providing superior cushioning and arch support. Whether you're scaling a mountain or navigating an urban jungle, these sturdy yet flexible shoes will keep your feet protected and secure. The latest technology is also used so that your shoes stay waterproof to protect them from mud and rain.
The great thing about KEEN's shoes is that it gives you the freedom to walk without worrying about traction over a variety of terrains and surfaces. With the stability offered by its supportive heel counter, slip-resistant outsoles, welded reinforcements, breathable fabric linings, and contoured footbeds, your feet will enjoy being secure as they take you on all sorts of paths.
Founded: 1928
Highlights: Established for almost 100 years, made of premium full-grain Helcor leather, and a thick tread with waterproof coating.
About Work Boot Brand: Be the ultimate working professional in a pair of classic Timberland Pro boots. These reliable and resilient boots have been established for almost 100 years, beginning as far back as 1928 in Boston, Massachusetts. Part of what makes them so great is their construction – they're made of premium full-grain Helcor leather and have a thick tread and waterproof coating.
They give excellent traction in slippery, hazardous conditions, making them ideal for working outside and keeping your feet safe. Style is not compromised while wearing your Timberlands either; they look sleek and professional no matter where you are. Investing in Timberland Pro will ensure that your feet are well protected while looking smart – and they'll last you a long time, too.
Founded: 1932
Highlights: Made to last, comes in a variety of styles for both men and women, and crafted with only the finest materials.
About Work Boot Brand: Danner boots are an excellent choice for all of your workwear needs. With an impressive portfolio of exceptional quality and superior comfort, these shoes have been earning the trust of workers the world over since 1932.
Crafted with utmost attention to detail and only the finest materials, Danner footwear is made to last and can handle just about any job you throw at it. As generations of hardworking people will attest, these boots are tough enough to get you through whatever life throws your way.
The men's selection comes in a variety of styles, from classic leather lace-ups to more rugged shooter-style designs. And there's something for women too. From contemporary-chic ankle booties to sleek hiker-inspired designs, no matter what look you're going for, Danner has you covered.
Founded: 2020
Highlights: ASTM F2892-18 certified, comes in several styles, and offers accessories for work ensembles.
About Work Boot Brand: Creating footwear that's both comfortable and protective with exemplary attention to detail and craftsmanship, BRUNT is the brand of choice when it comes to choosing your necessary equipment for work.
All BRUNT boots are waterproof, durable, ASTM F2892-18 certified, and come in several styles—including electrical-hazard rated or safety toe. Plus, they offer accessories that can complete any work ensemble – ideal for worksites or weekend wear.
Experience superior protection with every step as you power through your day in BRUNT Workwear. Having already been featured in leading publications like Men's Health, GearJunkie, and Forbes, trust that this upstart brand is worth investing in for optimal performance out on the field.
Founded: 1945
Highlights: A durable leather designed to withstand the elements, iconic yellow stitching, and a hightop construction.
About Work Boot Brand: Take your style to another level with Dr Martens. These iconic boots have been around since 1947 and have only increased in popularity ever since. For years, these combat boots have been a key part of self-expression for the British punk scene, standing as a symbol of independence and individuality.
But Dr Martens is much more than just a fashion statement; it's also your best defense against tough conditions. Made from durable leather that will withstand the elements, you can trust these shoes to keep you safe and comfortable no matter where you are. And the iconic yellow stitching and hightop construction of the 1460s? Well, they add even more flavor to an already legendary design.
Founded: 1950
Highlights: Crafted with high quality leather in the USA, offers an array of different styles, and designed with durability in mind.
About Work Boot Brand: A spectacle of heritage and resilience, this iconic brand has become well known for its rugged yet stylish boots, embodying everything you need in a tough-working pair of boots. Heavily inspired by the original Red Wing style, every Irish Setter boot is crafted with only the highest quality leather in the USA.
Boasting an array of different styles, you will be sure to find exactly what you are searching for, whether it's a pair of everyday casual shoes or something more heavy-duty—like a hunting or working boot. Each style is designed with durability and hard work in mind, ensuring that no matter what terrain you tackle, your feet will remain protected.
Founded: 2002
Highlights: Made using waterproof materials, a croc-style design, and a unique grip on the soles to prevent slipping.
About Work Boot Brand: Bogs are excellent winter work boots for those who face long days in wet and challenging environments. These revolutionary boots prioritize practicality without sacrificing style – you'll feel like you're walking on clouds, no matter what the ground is like beneath your feet.
Bogs are made using waterproof materials, so they will keep your feet warm and dry when working outdoors in winter weather conditions. Not only that but with a croc-style design, you can look fashionable while toughing it out at work. Plus, thanks to their unique grip on the soles, you won't be slipping and sliding around in wet snow either.
Founded: 1970
Highlights: Sturdy full-grain leather uppers, a steel-toe cap, and browning leather with subtle stitching details.
About Work Boot Brand: For over 50 years, they've been providing people with premium foot protection and comfort that won't fade. Our shoes are crafted with sturdy full-grain leather uppers and a steel-toe cap to keep your feet safe and comfortable through long days of hard work.
Plus, they don't sacrifice style either: browning leather with subtle stitching details looks great on any job site. With Golden Fox on your feet, you can confidently tackle any tough task in any tough environment, knowing that you have the best protection available. Durable enough to last a lifetime, it's your go-to boot when you need the toughest footwear around.
Founded: 1883
Highlights: A timeless style, can withstand over 1000 miles of wear, and 135 years of history.
About Work Boot Brand: When it comes to hard work in the toughest of environments, Wolverine is the brand that has built its reputation on reliability and craftsmanship. With 135 years of history, you can trust that they know what they're doing when it comes to delivering comfort and long-lasting strength.
Every boot is thoughtfully constructed with a focus on comfort, functionality, and durability – perfect for those who need a tough pair of shoes to get them through their day. The Original 1000 Mile Work Boot is at the top of the list for its timeless style and dependable performance; it's been proven to withstand over 1000 miles of wear.
Founded: 1892
Highlights: In business since 1892, the highest quality leather, and the strongest outsoles available for grit and durability.
About Work Boot Brand: Welcome to Thorogood, the trusted work boot brand since 1892. Their legacy is rooted in a commitment to providing hardworking Americans with shoes that get the job done no matter what the conditions. Whether you work on a farm, in a factory, or on an outdoor construction site, your feet will be kept dry and comfortable inside a pair of Thorogood boots.
When you purchase an original pair of Thorogood boots, you are keeping our proud tradition of craftsmanship alive. They use only the highest quality leather and the strongest outsoles available to provide grit and durability for all those long days on your feet.
Not only do they make sure that safety is the number one priority for their customers, but comfort, too. Their buttery-soft seams fit securely around any foot shape and height, accommodating even wide or extra-wide sizes without sacrificing fashion or PROTECTION.
Founded: 1903
Highlights: Full-grain leather uppers, boots for both bike-riding and construction sites, and a solid rubber sole.
About Work Boot Brand: Harley Davidson combines style, quality, and durability in a single package. For over one hundred sixteen years, they've been setting trends on the open road featuring some of the most iconic motorbikes around.
But did you know they make durable work boots, too? From construction sites to long bike rides, Harley Davidson's work gloves can put up with whatever comes their way. Featuring full-grain leather uppers and a solid rubber sole, these work boots are bound to keep you comfortable while ensuring maximum protection and support. Never worry about having sore feet or getting injured in the workplace ever again.
Founded: 1977
Highlights: A uniform design, maximum comfort, and no blisters or bumps regardless of the terrain.
About Work Boot Brand: Whether you're a soldier out in training or an off-duty police officer, you need footwear that can meet your demands. With Maelstrom, you won't have to worry about blisters or bumps no matter what the terrain.
The uniform design makes it easy to transition from mission to mission and offers maximum comfort so you can stay focused on your objectives. Reliability, durability, and protection are key elements of Maelstrom's signature style that make it one of the best work boot brands around.
Founded: 1999
Highlights: A heavy-duty fleece lining, neoprene-wrapped uppers, and a resilient rubber sole that provides extra traction in slippery conditions.
About Work Boot Brand: Muck has been a leader in crafting durable and reliable work boots for years, and their Arctic Sport Boot is no exception. Style and performance have been combined to create one of the most reliable and hard-wearing boots available on the market – made with heavy-duty fleece lining and neoprene-wrapped uppers; these sturdy boots are sure to keep your feet secure and safe in all conditions.
The resilient rubber sole provides extra traction even in slippery conditions. Perfect for tackling those harsh winter elements without sacrificing comfort.
Founded: 2015
Highlights: A full-grain leather upper, a strong and sturdy sole, and stylish enough to go from construction sites to date nights.
About Work Boot Brand: At Ever Boots, they believe in creating boots that don't just look good but can stand the test of time. That's why they craft each and every pair of our shoes with a full-grain leather upper and strong, sturdy soles that are both stylish and secure. Whether you're heading to the construction site or date night, you know that your feet will be taken care of for years to come.
Our commitment to excellence doesn't end there. Unlike other work boot brands, they also value affordability without sacrificing quality. They understand that getting the best products means it shouldn't cost an arm and a leg; Ever Boots makes sure you get exactly what you need at a price that works for you.
Founded: 1910
Highlights: Been in business since 1910, Vibram rubber soles for maximum durability, and heating solutions like Thinsulate insulation and full lining.
About Work Boot Brand: The Kodiak boot has been a staple of the Canadian landscape for nearly 110 years. Founded on the premise of crafting boots meant to last, Kodiak has been producing high-quality, hardwearing footwear geared towards the outdoors and active lifestyle since 1910.
Rooted in the traditions of hunting and fishing – or simply navigating the concrete jungles of city life – Kodiak takes pride in providing a reliable footwear option no matter how rugged or unpredictable your every day may be.
The Kodiak brand utilizes only superior materials – like Vibram rubber soles for maximum durability and support – as well as heating solutions like Thinsulate insulation and full lining to keep feet warm during cold weather pursuits. As well, their signature waterproof welting provides technological advances that help keep feet from getting wet.
Founded: 1993
Highlights: A fashionable Western design, an impressive range of boots, and unbeatable resilience for outdoor workers or riders.
About Work Boot Brand: When it comes to tough, long-lasting work boot brands, Ariat is a leader in the space. Their impressive range of boots combines fashionable Western design with an unbeatable level of resilience so you can look your best and stay comfortable all day.
Ideal for outdoor workers or riders who need a reliable pair of boots, Ariat crafts everything down to the finest detail so your feet get optimal support and protection. For those wanting more than just a functional work shoe, Ariat has designed their collection to be stylish yet timeless. Perfect for after office hours at a fancy gathering, their classic cowboy style will never let you down in terms of looking sharp.
Founded: 1974
Highlights: Wind-resistant and weatherproof, over 45 years of expertise, and a moisture-wicking material that keeps your feet dry.
About Work Boot Brand: Not only is Hi-Tec the world's first lightweight hiking boots, but their wind-resistant, weatherproof, and moisture-wicking materials mean you'll feel comfortable and dry in even the most treacherous conditions. With over 45 years of expertise in providing comfort everywhere, Hi-Tec is recognized as one of the best work boot brands out there.
Best Work Boot Brands Conclusion
When you're working hard, you need the right gear to make sure you're safe and comfortable. That's why it's important to choose the right work boots.
This list of the best work boot brands will give you an excellent starting point and will provide you with all the brands that you should consider when looking to find the perfect brand of work boots for you.
Please make sure to comment below if you have feedback on any of these work boot brands. We know that all of our readers would appreciate your comments.