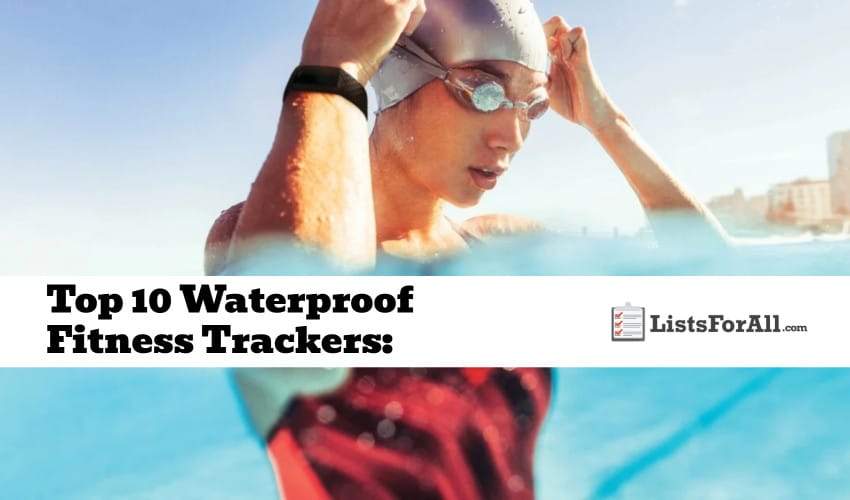 Best Waterproof Fitness Trackers: Finding the Perfect Waterproof Fitness Tracker for You
Fitness trackers are a great way to stay motivated and measure your progress when it comes to achieving health and fitness goals. But if you like to take your workouts to the pool, lake, or beach, then you need a tracker that can stand up to the elements. That's why we've compiled a list of the best waterproof fitness trackers available today.
This list of the best waterproof fitness trackers will feature the top options and will allow you to find the perfect waterproof fitness tracker. Whether you're looking for a fitness tracker that will be able to survive sweat, showers, swimming, or whatever, this list will have you covered.
A few other lists that you might benefit from after reading through this list of the best waterproof fitness trackers are our lists of best fitness websites, best fitness apps, and best fitness watches. These lists will pair nicely with this one and will allow you to have access to even more fitness-related content.
Top 10 Waterproof Fitness Trackers:
Price: $381.06
Highlights: Powered by advanced sensors, innovative safety features like Emergency SOS, and a waterproof design.
About Waterproof Fitness Tracker: Say goodbye to worrying about water exposure with a waterproof design that is ready for any aquatic activity. In addition, this watch easily customizes to fit your style no matter what it may be, with its range of sizes, materials, and bands that offer a variety of complications tailored to suit whatever environment you find yourself in.
Train for triathlons or just work out at the gym – Your Apple Watch Series 8 is up for whatever challenge awaits. As you stay active, take advantage of its temperature detection as well as its Crash Detection and Fall Detection technology which provides an extra layer of security while you're hitting the trails or simply running errands in town.
Price: $129.99
Highlights: Shock-resistant, tracks hydration, and customizable watch face.
About Waterproof Fitness Tracker: This lightweight, shock-resistant wearable device is perfect for any workout, as it boasts features that track your distance, steps, pace, and even hydration – it's no wonder that it's acclaimed as one of the best fitness trackers on the market.
With its user-friendly interface that allows you to customize your watch face through the Garmin Connect IQ store and its three different modes with various levels of battery life (11 days in SmartWatch mode, 24 hours in UltraTrac mode, and 14 hours in GPS mode), the Forerunner 735XT will help you achieve all your fitness goals.
Plus, its 24/7 heart rate monitoring will ensure that you have all the necessary information about yourself at a glance.
Price: $56.54
Highlights: Monitors Active Zone Minutes, tracks sleep, and shares inspiring daily reminders.
About Waterproof Fitness Tracker: This powerful device will track every aspect of your physical well-being with precision and accuracy: from all-day activity tracking and heart rate monitoring to sleep tracking and monitoring your Active Zone Minutes.
Whether you're an experienced athlete or an amateur just starting out, the Inspire 2 can help you take control of your health. Achieve important goals such as exercising more efficiently or getting enough sleep each night easily and quickly. What's more, by connecting to the Fitbit app, you can gain a comprehensive understanding of all aspects of your fitness, enabling you to make better-informed decisions about improving your overall health.
The Inspire 2 has everything you need to stay motivated and active: from inspiring daily reminders and coaching tips customized just for you to long battery life so that it lasts up to 10 days between charges. Thanks to its lightweight design and secure strap closure, it will fit perfectly on any wrist size without ever impeding your performance.
Price: $429.00
Highlights: Military standard durability, tracks barometric altitude, and up to 40 hours of battery life during full GPS and HR tracking.
About Waterproof Fitness Tracker: Polar Grit X is the perfect fitness tracker for surviving a grueling outdoor adventure. Developed to standard military durability, Grit X allows you to track everything from your heart rate to your climbs and descents and even barometric altitude all in one watch.
With up to 40 hours of battery life during full GPS and HR tracking, plus an ultra-light weight of 64 grams versus other more bulky models, Polar Grit X is sure to become a staple for any outdoors enthusiast wanting an efficient and easy way to stay on top of their progress.
Let Grit X keep you on track with real-time turn-by-turn route guidance that is precise enough for your most daring journeys yet straightforward enough for daily activities. Uphill and downhill stats gathered during your trek will be automatically detected throughout the journey so that you can stay informed while you conquer the paths before you.
Price: $249.00
Highlights: Waterproof up to 32 feet (10 meters), real-time metrics displayed on screen, and up to 16 hours of battery life.
About Waterproof Fitness Tracker: Swim smarter and take your swimming sessions to the next level with the FORM Smart Swim Goggles Fitness Tracker. This revolutionary product provides best-in-class performance, giving you unbeatable accuracy in both open water and pool swims.
It boasts real-time metrics displayed on a see-through screen, so you can keep track of your progress while never losing focus on your stroke. You'll enjoy up to 16 hours of battery life, letting you forget about distractions and reach your fitness goals with fewer stops to charge. And because it's waterproof up to 32 feet (10 meters), you're guaranteed worry-free pools or races – no matter how hard you swim.
Price: $229.99
Highlights: Advanced sleep coaching, Body Composition Analysis to gauge overall wellness, and nine automatic tracking modes for workout activities.
About Waterproof Fitness Tracker: Experience the next wave of fitness tracking technology with the Samsung Galaxy Watch 5 Fitness Tracker. This groundbreaking wearable device will help keep you healthy and active, no matter your activity level.
Boasting advanced sleep coaching to craft better sleep habits, Body Composition Analysis (BIA) to gauge overall wellness, plus improved sensor accuracy that monitors your heart rate, this watch is the best way to stay one step ahead of your health goals – literally.
With waterproof capability and nine automatic tracking modes for activities like running and swimming, you can make the most out of any physical task. Go beyond monitoring what you do; get real insights into how it affects you.
Price: $99.94
Highlights: For kids ages 4 to 9, multiple fun print designs like flowers and camo, and a battery that lasts up to a year without having to recharge.
About Waterproof Fitness Tracker: Perfect for kids ages 4 to 9, this waterproof fitness tracker comes in several fun prints you'll know your kiddo will love, from flowery prints to camo-style designs. Not only does it motivate them to move – helping them see and chart their progress on any goals they set for themselves – but it's also easy to use and comfortable enough for them to wear all day and night.
With a battery that can last up to a year without needing to be recharged and a seamless connection with mom and dad's phone through its app, so you can keep an eye on their activity status, this fitness tracker will help make staying healthy an enjoyable adventure.
Plus, you won't need to worry about taking it off at bath time either – the Garmin vívofit jr Kids Fitness Tracker is 100% waterproof. And that's not all – it also features chore management tools and allows kids to easily access rewards for activity participation.
Price: $152.57
Highlights: Battery life of up to 6 days, compatible with iOS and Android, and a built-in GPS with intensity map.
About Waterproof Fitness Tracker: With its long battery life of up to 6 days, you can enjoy all its features for longer. And with its fast-charge feature, a quick 15-minute charge will give you a day of power so that you are always connected. It is also compatible with both iOS 12.2 or higher & Android OS 7.0 or higher, so everyone can join in on the fun.
The built-in GPS will let you explore nature with ease, just leaving your phone behind while showing an intensity map on the app when you're done. Also, get a better monitor of your calorie burn and optimize your workouts with its 24/7 heart rate feature. And lastly, enjoy an amazing variety of music, podcasts, and more.
Plus, it even has this incredible active zone minutes alert feature which keeps you in check and motivated toward your goals during workout time.
Price: $249.0
Highlights: Geared for runners, up to 30 hours of battery life, and a running program that helps you reach your exercise goals.
About Waterproof Fitness Tracker: Lace up your running shoes and get ready to take your running game to the next level with the Polar M430 GPS Running Watch Fitness Tracker. This top-of-the-line fitness tracker has runners in mind – it's waterproof, so you can take on rainstorms or a dip in the pool without worrying about ruining your device.
Plus, the battery life is simply outstanding – get up to 30 hours of training time with multiple GPS recording options for uninterrupted use. Most of all, this fitness tracker boasts integrated GPS, heart-rate monitoring, and a running program that will help you reach all your exercise goals.
Whether you are indoors or out on an adventure, the Polar M430 Watch will be with you every step of the way as you challenge yourself to higher levels and redefine excellence.
Price: $779.99
Highlights: Made from corrosion-resistant titanium, waterproof up to 100 meters, and has 36 hours of battery life.
About Waterproof Fitness Tracker: If you're ready to take your fitness level up a notch, then you need the Apple Watch Ultra Fitness Tracker. This watch isn't just for everyday activity tracking; it's rugged enough to push athletes and adventurers to their limits.
The Ultra is made from corrosion-resistant titanium, making it waterproof up to 100 meters and able to withstand whatever adventure you throw at it. It also has an impressive 36 hours of battery life and customizable features, like the Action button, for instant physical control.
The Ultra also has a large, bright Always-On Retina display that's easy to see when out in direct sunlight. And if you're a serious endurance athlete, the advanced metrics in the Workout app will take your training program to another level.
Best Waterproof Fitness Trackers Conclusion
The best waterproof fitness tracker for you depends on your needs and preferences. If you plan to swim or use it in extreme weather conditions, you will want a model specifically designed for those activities.
After that, you can focus on the features and functionality you need, such as heart rate monitoring, step tracking, and GPS.
Whatever your needs are, there is sure to be a fitness tracker on this list that will help you accomplish your fitness goals and allow you to live a more healthy life.
If you have tried any of these waterproof fitness trackers before, we would love to hear your feedback below in the comments.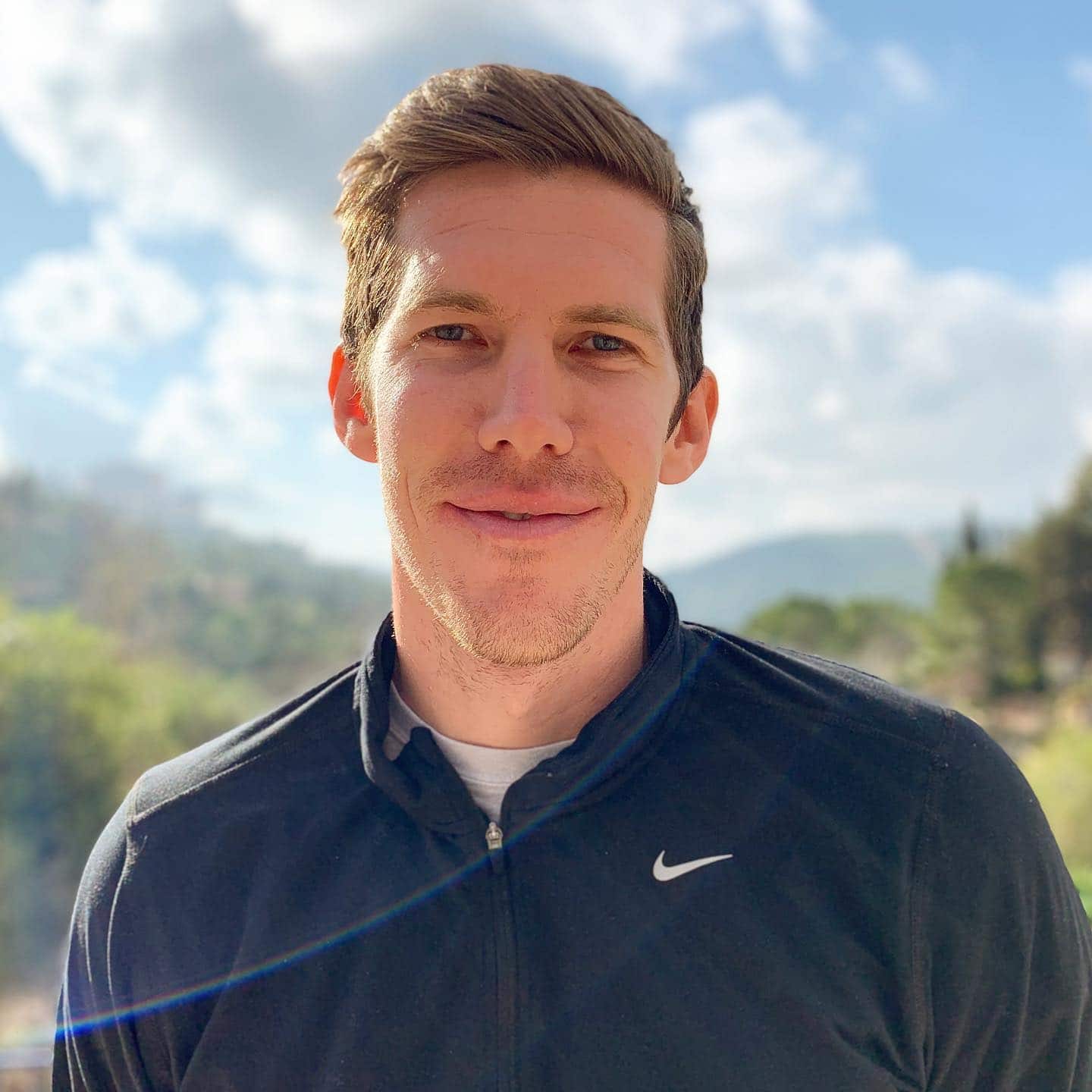 Kyle has a background in sports, fitness/health, and business. However, he also has a passion about researching all topics, and is dedicated to making lists that will help make your life easier.