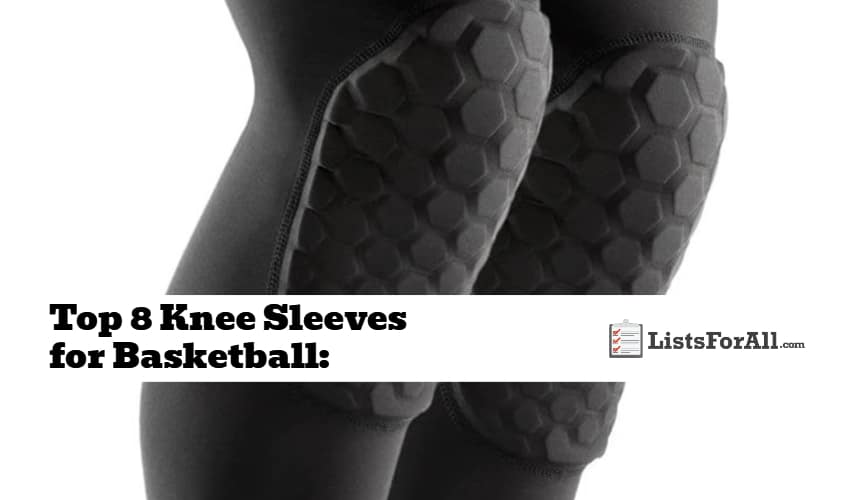 Best Knee Sleeves for Basketball: Finding the Perfect Basketball Knee Sleeve for You
Serving as an extra layer of support and compression, knee sleeves are a popular piece of equipment for basketball players. And with this list of the best knee sleeves for basketball, you can make sure to find the right knee sleeve for you.
This list of the best knee sleeves for basketball will feature the top options and will help you find the right knee sleeve for the next time you play basketball. With the right sleeve, you can gain improved support, keep your knees safe and warm, and even increase your performance. 
When you finish with this list of the best knee sleeves for basketball, visit our lists of the best basketball websites, best basketball backpacks, and best outdoor basketballs. With these lists, you can meet even more of your basketball needs.
Top 8 Knee Sleeves for Basketball:
Price: $72.03
Highlights: Lightweight Ariparene, designed with strategically placed mesh, and color choices to match any uniform.
About Knee Sleeve: Put your trust in the legendary performance of Nike Pro Combat knee sleeves. With over a decade of success on the court and the trust of professional and recreational players, you can rely on these high-quality knee sleeves to keep your muscles warm, your joints supported, and you playing comfortably every time you take the court.
Crafted from lightweight Ariparene, these sleeves have strategically placed mesh for optimal airflow and skin protection that won't inhibit your movement. With an attractive pattern on the front and back, plus color choices to match any uniform or style, these breathable knee sleeves are sleek and contoured for versatility in motion.
Price: $27.99
Highlights: 9mm of HEX technology padding, extended length design on the bottom, and seven size options with eight different colors.
About Knee Sleeve: These durable and washable knee sleeves offer superior protection with a generous 9mm of HEX technology padding that serves to unite fashion and safety. The extended-length design on the bottom side prevents slippage while providing additional support and comfort during game time.
And with seven size options and eight different colors to choose from, you can customize your look as much as your feel. Plus, considering the quality of construction and thoughtful design, McDavid has kept their pricing affordable so that everyone can stay safe during intense hoops sessions.
Price: $15.95
Highlights: Tubular design, offers scratch-resistant protection, and helps relieve pressure on your kneecap area.
About Knee Sleeve: For basketball players and any athletes that want to prevent injuries, this top knee sleeve is an excellent way to increase your performance without compromising your safety. This product is specially designed for sports like basketball, football, badminton, cycling, jogging, and climbing.
It has a tubular design, making it easy to wear and offering scratch-resistant protection from scratches. Plus, its breathable material is sure to keep you comfortable during play or practice. The Knee Brace Compression Sleeve also helps relieve pressure on your kneecap area while supporting athletes who are trying to recover from postoperative injury or ligament damage.
Price: $13.95
Highlights: Features maximum compression, durable and breathable fabric, and antibacterial material that keeps bacteria and sweat away.
About Knee Sleeve: The Blitzu POWER+ Basketball Knee Sleeves are your go-to support apparel to help you perform your best on the court. Developed with athletes in mind, it features maximum compression that remains consistent while you move and jump around, cushioning and protecting your knees against impact.
Made out of a durable, breathable fabric, these sleeves are designed not only for basketball but can be used while playing soccer, tennis, or jogging. Antibacterial material keeps the sweat and bacteria away, creating a comfortable feel even during long games. Plus, they're washable to ensure minimal maintenance.
Price: $52.24
Highlights: Promotes healing for current injuries, airflow venting tech that reduces odor and moisture, and a pre-curved anatomical design that fits both left and right knees.
About Knee Sleeve: Designed to mentor knee health while providing optimal performance, these sleeves are essential for any basketball enthusiast who isn't ready to bow out of the game. Every shot you take will be powered by the strength and comfort that comes from using these quality knee sleeves.
The Shock Doctor Ultra Knee Sleeves are uniquely equipped to prevent, protect, and promote healing for medial and lateral instability, minor patella instability, meniscus injuries, minor ligament sprains, hypertension, arthritis, and more — keeping you safe from even the most unexpected injuries on the court.
Not only do they keep your performance strong during the toughest days and workouts, but they also feature airflow venting tech that reduces odor and moisture – so you can play hard without worrying about being uncomfortable.
Price: $12.99
Highlights: Memory-knit design, reduces shock from collision, and are perfect for many different sports and activities.
About Knee Sleeve: Super lightweight and flexible, these basketball sleeves provide support that won't impede your performance. Thanks to a memory-knit design, they'll offer unbeatable comfort every time you wear them so you can keep playing at your top level.
The compression helps to stabilize the knee position, reduces shocks from collisions, and protects against potential damage. So now you can play without the worry of long-term effects or immediate injury.
Price: $11.90
Highlights: Prevents unwanted movements, reduces pain from arthritis and post-surgery, and has an anatomically shaped design.
About Knee Sleeve: Take your performance to the next level with Mava Sports Compression Basketball Knee Sleeves. With an anatomically shaped design and fabric of the highest quality, you can keep your muscles warm while allowing them to breathe, prevent any unwanted movements, reduce pain from arthritis, and have unrestricted performance while running up and down the court.
Price: $13.99
Highlights: Unique four-way stretch for excellent range of motion, easily washable, and incredibly breathable.
About Knee Sleeve: Designed to provide support and comfort during high-impact sports like basketball, these leg sleeves feature a unique four-way stretch that gives you an excellent range of motion as well as incredible breathability, perfect for those intense pick-up games. Plus, they are super easy to wash after those sweaty days on the court.
A regular fit means it fits snugly and won't slip even with hard play. Great for athletes of all sizes and levels, these PISIQI knee braces are sure to give you the extra protection and confidence you need when playing your game.
Best Knee Sleeves for Basketball Conclusion
Overall, there are many great knee sleeves available for basketball players of all skill levels. Whether you are a beginner or an experienced player, there is a sleeve that can help improve your performance and keep your knees protected on the court.
It really just comes down to you selecting the knee sleeve that works best for you and your preferences. Also, if you need even more knee support, visit our list of the best knee braces, and, of course, consult a physician if you are experiencing continued knee pain.
Have you used any of these knee sleeves? If so, please feel free to share your thoughts in the comments below.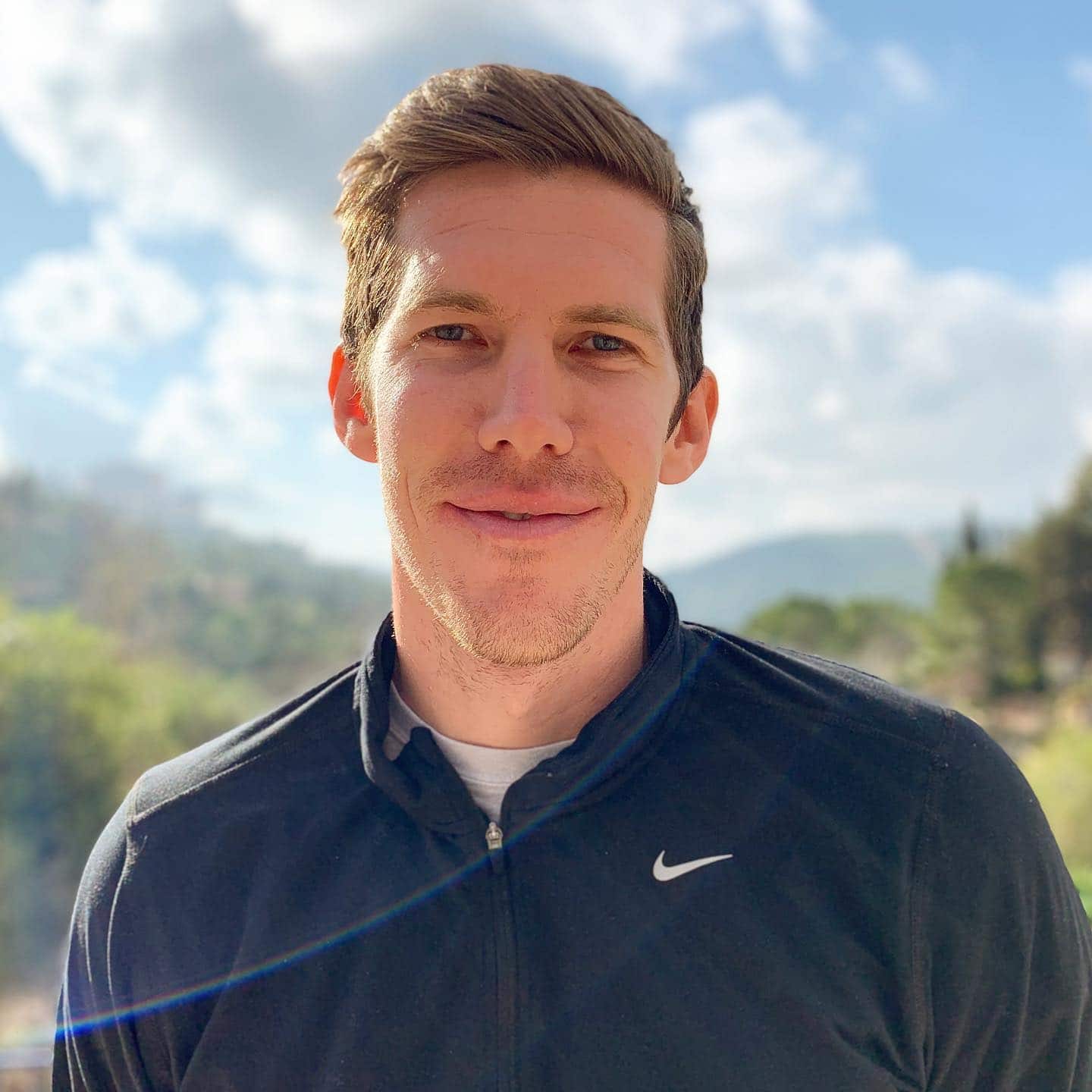 Kyle has a background in sports, fitness/health, and business. However, he also has a passion about researching all topics, and is dedicated to making lists that will help make your life easier.