Greek Islands: The Top 20 List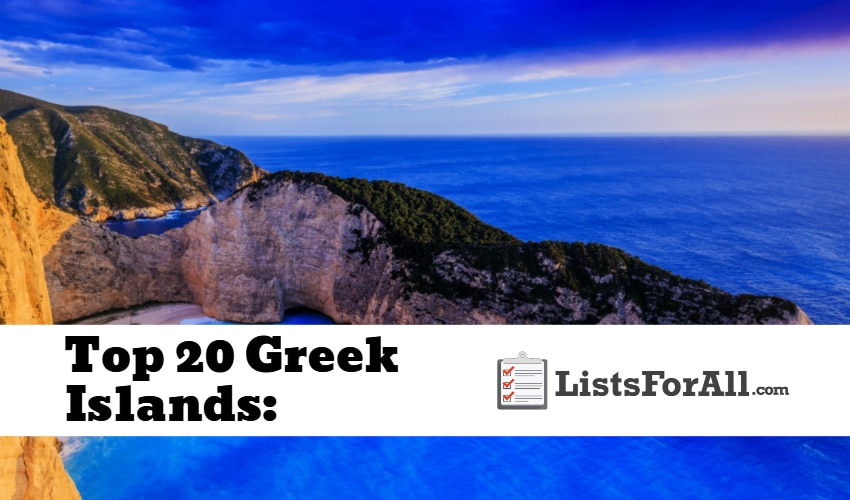 Greek Islands: Beauty, History, and Culture
With white sand beaches, crystal clear waters, and old world charm, the many islands of Greece are a sight to behold. In this list of the best Greek islands we detail 20 of the great islands Greece has to offer. With a range of topography and cultures represented, all of the islands on this list are truly special.
A quality ferry service also connects many of the islands, allowing you to visit more than one island at a time. So what are you waiting for? Go to Greece and experience all that island life has to offer!
For some great deals in getting to one of these great travel destinations, checkout our list of the best travel sites.
Top 20 Greek Islands:




Corfu Island 
The northernmost of all of the Ionion islands, Corfu features a variety of stunning landscapes and attractions. With beautiful beaches and charming old towns, Corfu is one Greek island that is not to be missed. And, as a relatively large island, Corfu also offers a host of activities, ensuring that you will always have something to do.
More Resources and Info:




Hydra Island 
Unspoiled and picture-perfect, the island of Hydra is a charming mix of old and new. Quaint restaurants and harbor shops make Hydra an island worth coming back to time and time again. If you want it all, Hydra is a great choice.
More Resources and Info:



Zakynthos Island
The third largest of the Ionian Islands and a popular summer destination, Zakynthos has something for everyone. The harbor city boasts a variety of restaurants and hotels, while the wide sandy beaches, mountainous interior, and underwater caves give outdoor enthusiasts something new every day. For crystal clear water and lush interiors, Zakynthos is a must-see.
More Resources and Info:




Samos Island 
Featuring plenty of water activities like scuba diving and snorkeling, the crystal clear waters of Samos are a sight to behold. Ancient ruins and a variety of attractions add to Samos' appeal. If you enjoy being active on your vacations, Samos is an ideal fit.
More Resources and Info:




Symi Island
Famous for its colorful neoclassical houses, the island of Symi is part of the Dodecanese Islands and close to southwest Turkey. An 18th century monastery is another famous landmark of the island, drawing pilgrims from all around the world. Add in beautiful scenery, azure waters, an annual music festival, and a varied topography, and Symi is a truly special island.
More Resources and Info:




Crete Island 
A distinct island and world unto itself, the large island of Crete boasts a varied landscape with mountains and beaches galore. Luxurious hotels and amenities are available, as well as quaint shops and restaurants. If you are looking for variety, Crete is the place to be.
More Resources and Info:




Santorini Island 
One of the most popular islands in the Aegean, the beautiful sun-kissed island of Santorini is postcard worthy. A happening night scene and ancient ruins add to Santorini's charm. The white-washed buildings and cobblestone streets certainly don't hurt, either!
More Resources and Info:




Naxos Island
With less tourist traffic than its island neighbor Mykonos, the island of Naxos allows for plenty of exploring. You will be able to explore the island and less inhabited beaches, old ruins, churches, and Greek culture. For an authentic Greek island feel, Naxos is a great option.
More Resources and Info:




Kos Island
Over the years Kos has become synomous with biking, for both pleasure and sport. So if you are interested in biking, or are like us and just think that exploring a beautiful Greek island by bike would be awesome, than Kos is a must visit. If biking isn't your thing though, Kos is still not to be missed and includes sightseeing and activities for all.
More Resources and Info:




Delos Island
The island of Delos, also known as the "Sacred Island of Apollo," is filled with Greek historical sights. Considered one of the most important archeological sites in Greece, it is a must visit. Some of the sights to see include; The Temple of Delians, House of the Comedians, and the Lion Terrace. If you enjoy Greek history, the island of Delos is not to be missed.
More Resources and Info:




Ikaria Island
Not as "touristy" as some of the islands on this list, Ikaria offers a rugged and unique island appeal. There are great beaches like Nas and Seychelles, but there are also offerings of wilderness, beauty, and privacy on smaller beaches like Prioni Beach. There is also some great hiking on the island as well, and a guide map to help you out on the way.
More Resources and Info:




Karpathos Island
Staying consistent with all of the islands on this list, Karpathos is a unique island all its own. Because of its seclusion, many of the locals still today speak a dialect that is specific to the island. With beaches that will take your breath away to hiking Mt. Lastos to experience authentic Greek culture and cuisine, Karpathos is sure to leave you amazed and wishing you could've stayed longer.
More Resources and Info:




Koufonisia Island
Koufonisia consist of to islets (Pano Koufonisia and Kato Koufonisia), they are only separated by a short 200 meters. With crystal clear water and white sand beaches, the island of Koufonisia also offers different caves to explore as well. When pirates first saw the island of Koufonisia they saw the caves and thought that the island was hollow, they were the ones that named the island Koufonisisa, which means "hollow island."
More Resources and Info:




Ithaca Island
At one time home to Odysseus and perhaps Homer as well, Ithaca is filled with history from ages past. Home to the worlds largest natural harbor, mountains to hike, and authentic towns and villages, you will always have something to do on the island of Ithaca. And, if you don't want to do anything at all, just relax on some of the best beaches in the world and soak in the sunshine.
More Resources and Info:




Anafi Island
If you enjoy a good sunset (I mean who doesn't though?), you will want to checkout Anafi. The steep cliffs of the island are going to offer "spectacular views of the seas and unforgettable sunsets." Along with enjoying the beaches and water, you will be able to walk around Anafi easily as it is considered a very "walkable island."
More Resources and Info:




Paros Island 
With charming whitewashed buildings and cobblestone streets, the island of Paros also boasts beautiful beaches and a stellar nightlife. With a number of ferries coming in and out of the island, Paros makes an ideal base for exploring the islands of the Cyclades.
More Resources and Info:




Rhodes Island 
Part of the Dodecanese islands near Turkey, the island of Rhodes is packed full of historic sites. A number of stunning beach resorts and villages make Rhodes an easy place to fall in love with. The cuisine is top-notch as well, giving Rhodes another point in its favor.
More Resources and Info:




Mykonos Island 
Featuring quintessentially Greek whitewashed buildings and tiny streets, the island of Mykonos is a popular destination for people all around the world. Cafes, bars, shops, and restaurants abound, firmly placing Mykonos as a world-class destination.
More Resources and Info:




Siros Island 
A study in contrasts, the tiny island of Siros features everything from world-class beach resorts to quaint farming communities and remote beaches. When in the Cyclades, Siros is not to be missed, especially if you want a relaxing island experience.
More Resources and Info:




Chios Island 
Located in the northeastern Aegean, the island of Chios (sometimes called Hios), is a relatively quiet island with stunning scenery. If you want to get away from it all, Hios is a great option. Even with its peace and tranquility, however, Chios still offers a number of things to do, ensuring that you will always have a good time every time you go to Chios.
More Resources and Info:
Best Greek Islands Conclusion
When it comes to visiting a Greek Island you pretty much can't go wrong. However, there are some different feels, views and history to each specific island, so hopefully this list of the best Greek Islands will help you better determine where you want to spend your time when you go to visit. Because we all know that after researching these islands there is no way they didn't make it onto your bucket list.
Interested in more islands? Checkout our list of the best Caribbean islands for more sand, sun, and clear waters. Also, checkout our list of the best travel accessories to make sure that you have everything that you need for your trip.