Best Wedding Websites: The Top 25 List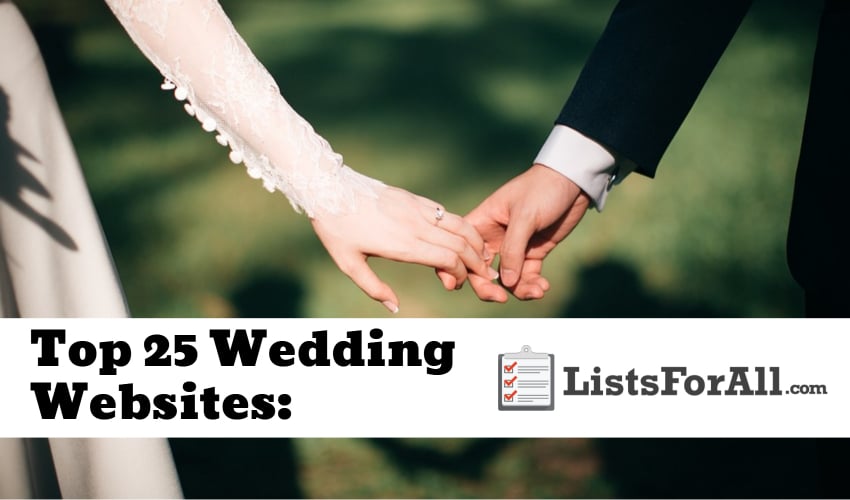 Wedding Websites: Everything for Your Special Day
While the wedding may only last a day, the planning and preparation for that one day can sometimes be overwhelming and stressful. In this list of the best wedding websites we have compiled a variety of wedding sites that help with all things wedding related, and hopefully, will help to make your planning enjoyable.
From wedding dress shopping to beverage ordering to guest seating to thank you cards, the wedding websites on this list do it all. While some of the sites on this list serve a very specific wedding function, other websites are a one-stop shop for all things wedding related.
If you, or someone you know, is getting married this list is a must-read! Also, our list of the Best Wedding Dress Designers could be helpful as well.
Top 25 Wedding Websites:

Need to find a local photographer, baker, wedding planner, or venue for your wedding? Wedding Wire connects local merchants with engaged couples. The website also offers a variety of other services, including wedding planning tools, inspiration boards, and wedding budget help. Get your wedding planning off to a good start with Wedding Wire.

A one-stop shop, The Knot covers everything wedding related. Local vendors can be found on the site, as well as a registry, ideas and etiquette, and personal (free!) wedding website templates. A shop section also includes creative wedding décor and favors.

Want all of your guests to feel like old friends? Guesterly helps you create a fun and unique lookbook questionnaire that guests complete online, making guests feel like friends before they even meet. A number of additional features are also available, including a welcome letter and program.

Designed by industry professionals, AllSeated helps you build a guest list and seat your guests. Also, because the information is stored in the cloud, multiple parties (think family, wedding planner, venue) can view and be involved with the planning. Figuring out the seating arrangements has never been easier.

The main draw of Wedding Spot is its ability to compare venues side-by-side. Users of the site can search for venues based on a number of factors, including amenities and price, and then compare multiple venues based on the search criteria. Discounts and deals are also offered, making it a great site for the savvy shopper.

In true Martha fashion, the Martha Stewart Weddings website is inspirational and informative. Written in blog style, the site covers things like planning, bridal style, and inspiration. You will really be able to spark your wedding inspiration with the resources offered by this wedding site.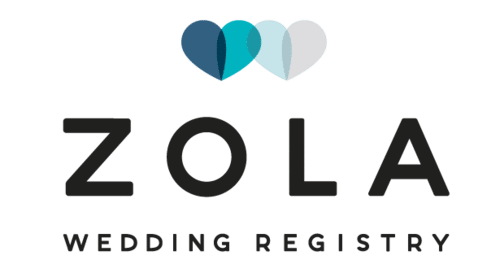 A free all in one wedding planning website, Zola provides wedding website templates with step by step instructions. Built into the website is a registry, checklist, and guest list, making planning a breeze. If you want to have all your wedding planning in one place, Zola is a great choice.

A vendor list that features the best of the wedding industry, Carats and Cake will allow you to find the perfect vendors for your big day. With vendors such as florists, photographers, and videographers, all sorted by category, rating, and location, you can find the perfect, trusted vendors for your wedding celebration.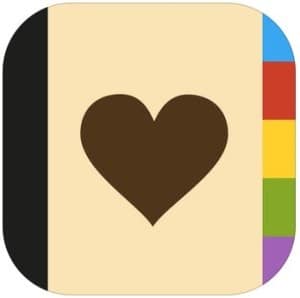 An iPhone application that lets you manage wedding planning on the go, Wedding Happy is a wedding planning site that allows you keep track of all the tasks and vendors needed for the big day. The app also features a timeline that helps you stay on top of tasks, making sure sure everything is in place for the wedding day.

Add a personal touch to your save the dates and wedding invitations with a custom handmade invitation. You will be able to put your own personal touch and style on your wedding invitations. If you are looking for a unique way to invite your family and guests to your special day, checkout Sarah Bubar Designs.

Need a block of hotel rooms for your wedding? What about for your bachelor or bachelorette party? Skipper makes it easy to reserve hotel rooms for groups, and ensures that you are getting the best deal possible. If you have a lot of out of town guests coming to your big day, Skipper is a must.

With unique and stunning stationery and website design, plus creative favors and gifts, Minted has everything you need to plan your wedding. Independent artists create invitations, save the dates, websites, favors, decor, and gifts, ensuring that your wedding celebration is one of a kind.

Honeyfund is going to allow you to create a honeymoon registry, a down payment fund, starting out basics, and more. After that your guests can choose to help fund your honeymoon or any of the other options that you selected. Honeyfund has partnered with Target as well, making the process even that much better. Get the gifts that you really want for you wedding and sign up for a Honeyfund account.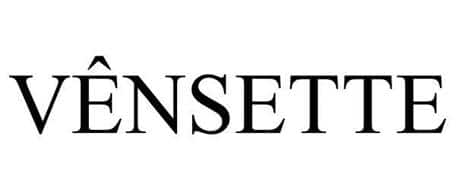 A one stop shop for all your wedding hair and makeup needs, Vensette connects you with professional Vensette hair and makeup artists in the New York City, Los Angeles, San Francisco, Silicon Valley, and Miami areas. You can browse the menu to choose makeup and hairstyles to inspire your wedding day look or create your own.

With a variety of easy to mix and match bridesmaid dresses, Weddington Way makes bridesmaid dress shopping a breeze. And, with a virtual showroom platform, brides can easily coordinate with their bridesmaid. If you are tired of the ho hum bridesmaid dresses you have been seeing, check out Weddington way.
A wedding registry website focused on cash registries, Zank You allows you to create a simple, customizable, low-fee cash registry. The free website you can create for your registry is easy to use and allows you to get cash for things like the honeymoon, travel, or a house.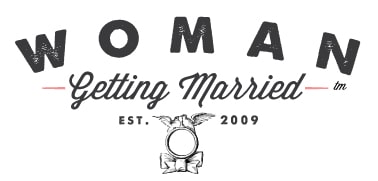 A wedding planning website focused on providing wedding ideas and inspiration, as well as wedding venue reviews, dresses, and more, Woman Getting Married is a great one stop shop for all things wedding related. If you don't have a wedding venue yet, Woman Getting Married should be the first website you turn to.

A blog devoted to all thing wedding planning, Wedding Lovely features real weddings and gives recommendations and advice on venues, vendors, and invitations. If you need some inspiration, Wedding Lovely is the place to go!

Another all in one wedding planning website, My Wedding covers everything from registries, to personal wedding websites, to local vendors, and dresses. If you like to keep everything organized and in one place, My Wedding is a great resource.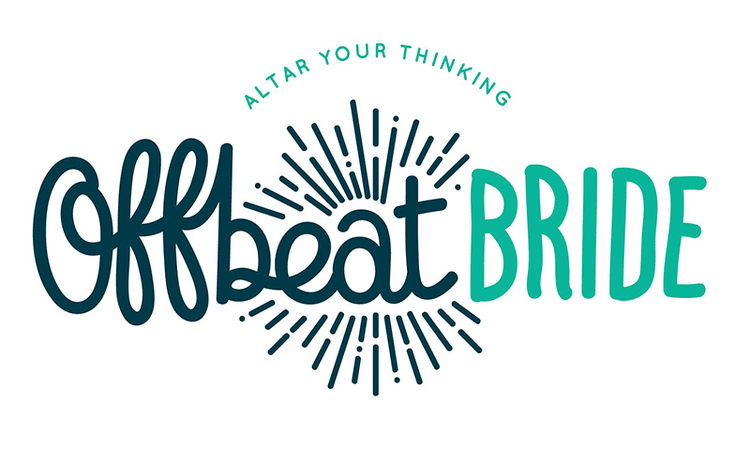 A wedding blog for the engaged and confused, the Offbeat Bride talks wedding planning basics. With everything from ceremony planning, to wedding vendors, and wedding spreadsheets, the blog ensures that you go from confused to well-organized.

The website of "Brides" magazine is a great resource for the stylish bride and groom. Ring and dress advice are featured here, as well as advice on travel, ceremony, reception and so much more. If you have ever picked up the Brides magazine you know all the great resources that they offer, the website is all that and more.

Dedicated exclusively to beverages, Bev Mo helps wedding planners select and calculate how many beverages are needed for a wedding. Once calculations and selections are made, Bev Mo also provides optional ordering and delivery options.

Designed for the curvy bride, Pretty Pear Bride helps plus-size brides with wedding inspiration and design. The site also features a directory of local bridal stores that cater to the plus-size bride. You will be able to find the perfect dress and so much more.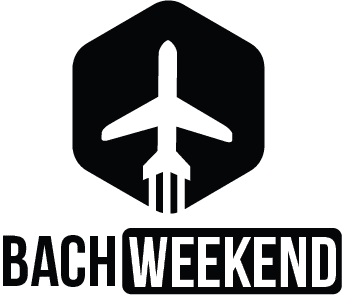 If a fun and exciting bachelor or bachelorette party is important to you, Bach Weekend needs to be your first stop. Located in Nashville and New Orleans you will be able to plan a 48 hour getaway experience for the ages. They will provide everything that you need to enjoy a great weekend with your best friends and family.

You are going to want to thank all of your family and friends for the great gifts that they got you, but that is a big undertaking sometimes. With Postable you will be able to utilizing realistic handwriting fonts and write your thank you cards online. Services also include a free private online address book, quality cardstock, and printing and mailing services.
Best Wedding Websites Conclusion
Planning a wedding can be a lot of work, even more than you were expecting sometimes. So our goal with this list of the best wedding websites is to provide you with a list of  wedding sites that are going to help you save time, money, and help to simplify the whole process.
We want you to be able to focus on enjoying the experience of getting married rather than spending all of your time on a wedding to do list.
We would love to have you leave your feedback on any of these great sites in our comments section a below. I am sure our other readers would appreciate it.