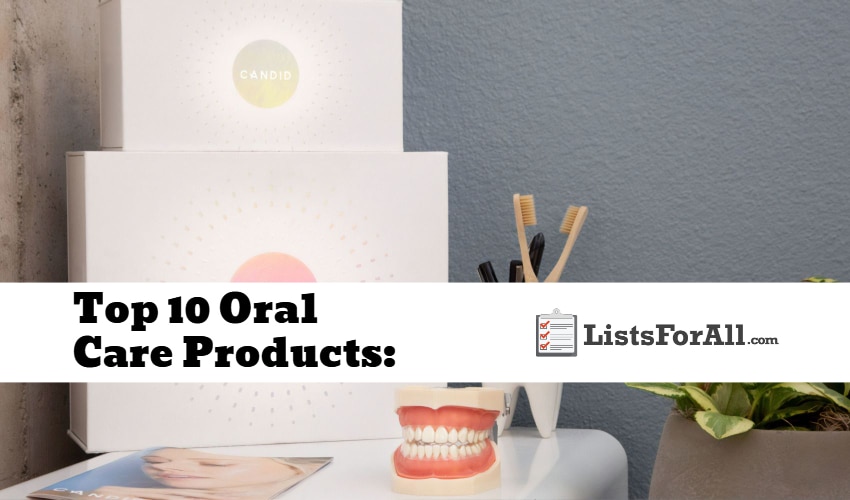 Best Oral Care Products: Finding the Right Tools for the Job
Dentists always tell you to brush and floss your teeth regularly, but what are the best oral care products to use? Well, we have compiled this list of our top ten picks to help make sure you know which oral care products to use. Whether you're looking for a toothpaste that fights plaque or an interdental brush to clean between your teeth, this list has you covered.
When it comes to doing pretty much any job, the better the tools you have, the easier and more effective it is to do the job. It is the same way with cleaning your teeth and having the proper oral care. These ten different oral care products will make cleaning your teeth easier than ever, and they will also allow you to have a healthier mouth too.
And while some of these items may be a small investment up front, they will save you money over time as you spend less time in the dentist's chair.
After you finish with this list, visit our lists of the best teeth whiteners and best toothpaste brands. Both of these lists will provide even more oral care options for you.
Top 10 Oral Care Products:
Price: $6.69
Highlights: Made with super Tuffloss, it has a fold-away toothpick on the handle, and a refreshing mint flavor.
About Oral Care Product: Looking for an easy and convenient way to floss your teeth? Try Plackers Micro mint dental floss picks. These nifty little flossers are made with super Tuffloss, the world's strongest dental floss, so they won't break or stretch while you're using them.
Plus, the fold-away toothpick on the handle makes it easy to remove plaque and food debris from your teeth. And to top it all off, they have a refreshing mint flavor that will make your mouth feel clean and fresh.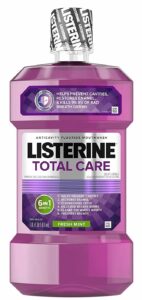 Price: $6.89
Highlights: Mint-flavored, has six dental hygiene benefits, and cleans your whole mouth.
About Oral Care Product: Looking for one of the best oral care products? Look no further than Listerine Total Care Fluoride Anticavity Mouthwash. This fresh mint-flavored mouthwash provides six dental hygiene benefits in one powerful oral rinse. It helps prevent cavities, restores enamel, strengthens teeth, and more.
Use it to freshen your breath, kill germs that cause bad breath, and clean your whole mouth. And last but not least, it is super easy to use. Just pour a little in your mouth, swish it around, and then spit it out. It is as easy as that.
Price: $39.97
Highlights: 3D cleaning action, has a pressure sensor, and an in-handle timer.
About Oral Care Product: The Oral-B PRO 1000 rechargeable electric toothbrush is clinically proven to provide a superior clean vs. a regular manual toothbrush. The professionally inspired design of the CrossAction brush head surrounds each tooth with bristles angled at 16 degrees, and the 3D cleaning action oscillates, rotates, and pulsates to break up and remove up to 300% more plaque along the gumline vs. a regular manual toothbrush.
The pressure sensor stops the pulsation movement if you brush too hard, and there is an in-handle timer to help you brush better. All of this allows for this electric toothbrush to be one of the best oral care products on the market.
Price: $38.99
Highlights: Easy to use, has sonic technology, and comes with four extra removable cleaning heads.
About Oral Care Product: Looking for an easy way to remove plaque and tartar from your teeth? Look no further than the Morkare Electric Plaque Remover. This handy toothbrush uses sonic technology to effortlessly break down calculus, hard tartar, and coffee stains.
This will allow you to enjoy your favorite cup of coffee without the harsh stains it can leave on your teeth. Plus, it comes with four extra removable cleaning heads so you can keep your smile looking its best.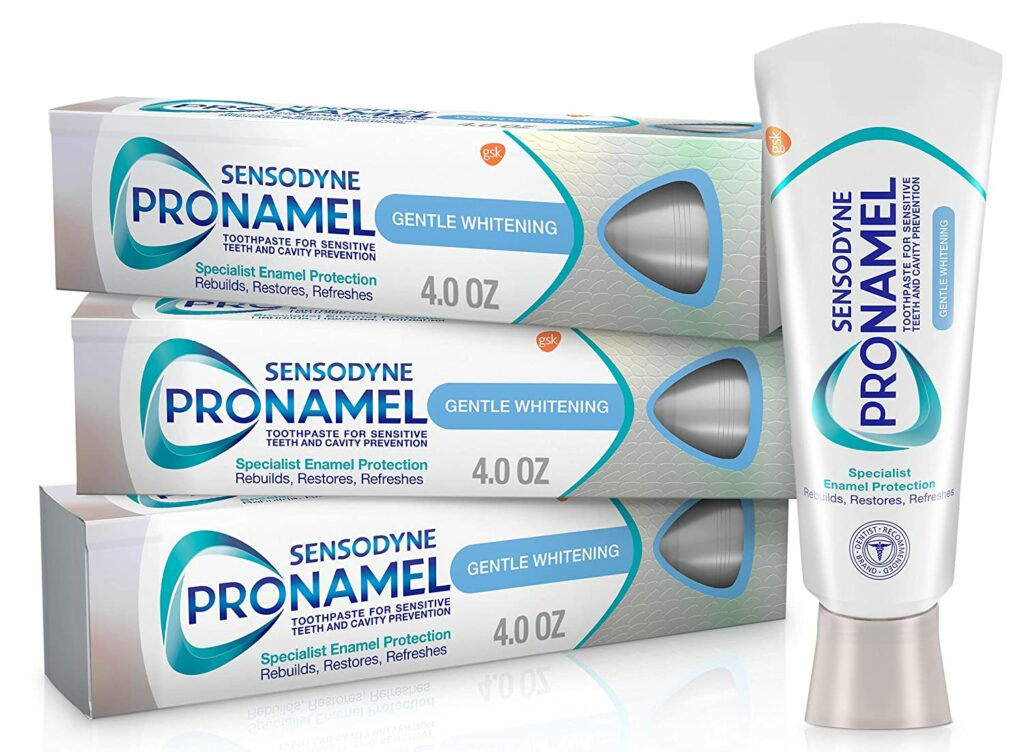 Price: $17.22
Highlights: Protects enamel, is perfect for sensitive teeth, and has an anticavity formula.
About Oral Care Product: Sensodyne Pronamel Gentle Whitening Toothpaste is an enamel-protective toothpaste that also helps whiten your teeth. This toothpaste is designed to help strengthen and re-harden enamel, while also removing stains for brighter, healthier teeth.
It's perfect for those with sensitive teeth, as it's gentle yet effective. Plus, its anticavity formula helps protect from acid erosion caused by everyday acidic foods and drinks.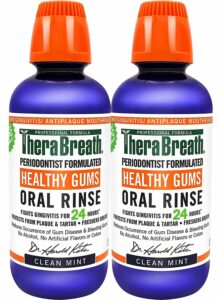 Price: $16.84
Highlights: Naturally based ingredients, formulated with cetylpyridinium chloride, and it keeps your gums healthy.
About Oral Care Product: If you are looking for a naturally based oral rinse that can help to improve your gum health, look no further than TheraBreath's Healthy Gums Oral Rinse. Formulated with cetylpyridinium chloride – an ingredient approved by the FDA and clinically proven to kill germs linked to gum disease – this rinse helps to reduce inflammation, fight bacteria, and neutralize decay. Add it to your daily oral hygiene routine for cleaner, healthier gums.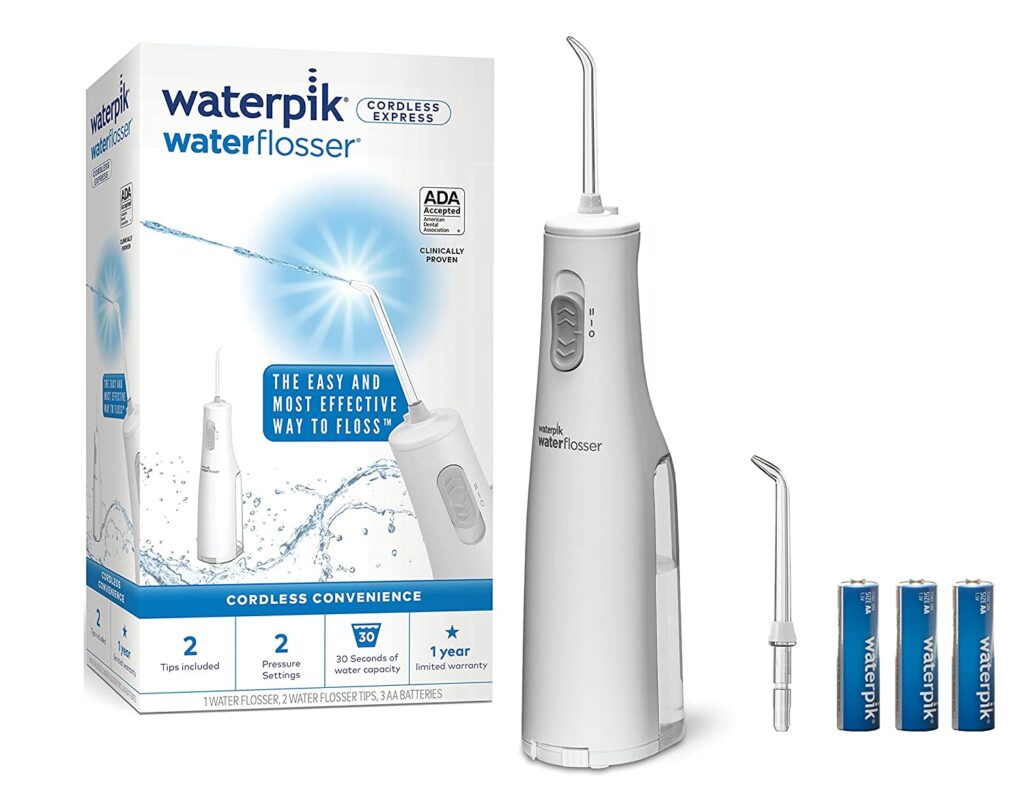 Price: $30.98
Highlights: Combines water pressure with pulsating action, removes harmful bacteria, and is battery operated.
About Oral Care Product: The Waterpik Cordless Express WF-02 is the perfect solution for when you want the convenience of water flossing on the go. It combines water pressure with pulsating action for exceptional cleaning.
It helps to remove harmful bacteria and debris that traditional brushing and flossing can't reach. Plus, it's battery operated so you can take it with you wherever you go – no charging cords necessary.
Price: $6.99
Highlights: Is gentle, has a sleek and modern design, and is lightweight.
About Oral Care Product: This soft bristle toothbrush is designed to clean teeth deeply while being gentle on enamel and gums. The sleek and modern design is perfect for showing off on your counter, and the black and white bristles make it easy to differentiate between brushes when sharing. Plus, they're lightweight and great for bringing with you on the go.
Price: $48
Highlights: 8 shades whiter in seven days, has light-activated acceleration technology, and an enamel-safe formula.
About Oral Care Product: Looking for a whiter smile, fast? With the iSmile Teeth Whitening Kit, you can achieve up to 8 shades whiter in just seven days. This professional-grade kit uses light-activated acceleration technology to remove stubborn stains from coffee, wine, soda, etc. Plus, their enamel-safe 35% Carbamide Peroxide formula is gentle on your teeth and helps get your smile back to its brightest in no time.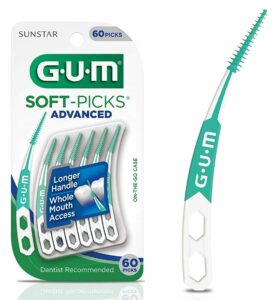 Price: $4.97
Highlights: Soft, flexible bristles, curved design, and has a longer handle and tapered tip.
About Oral Care Product: GUM Advanced Dental Picks are the perfect way to get plaque build-up under control. With soft, flexible bristles, they can easily remove plaque from even the most difficult-to-reach areas.
Plus, their curved design enables them to reach any space in your mouth – great for cleaning those hard-to-reach back teeth. And with a longer handle and tapered tip, they provide comfort and precision when you need it most. If you're looking for an easy and effective way to keep your smile healthy and sparkling, GUM Advanced Dental Picks are the solution.
Best Oral Care Products Conclusion
Whether you're looking for a toothbrush, mouthwash, or dental floss, this list of the best oral care products will have you covered. Before you know it, you will have a quality oral care routine, and your mouth will thank you. Not only will your teeth and gums look healthier, but they will also be healthier, which is far more important.
And it doesn't take much time or effort, either. After getting the different products and items, you won't need to spend a crazy amount of time on your oral hygiene. With a little bit of time in the morning and the evening, you can make sure that your mouth is healthy.
This investment in the health of your mouth will pay dividends as you get older and others around you have to get dental work done, and your teeth are mouth are still strong and healthy from the small investments you make every day.
Have you tried any of these oral care products before? Or is there an item that you think should be on this list but isn't? If so, make sure to share your feedback below.