Best Homemade Halloween Outfits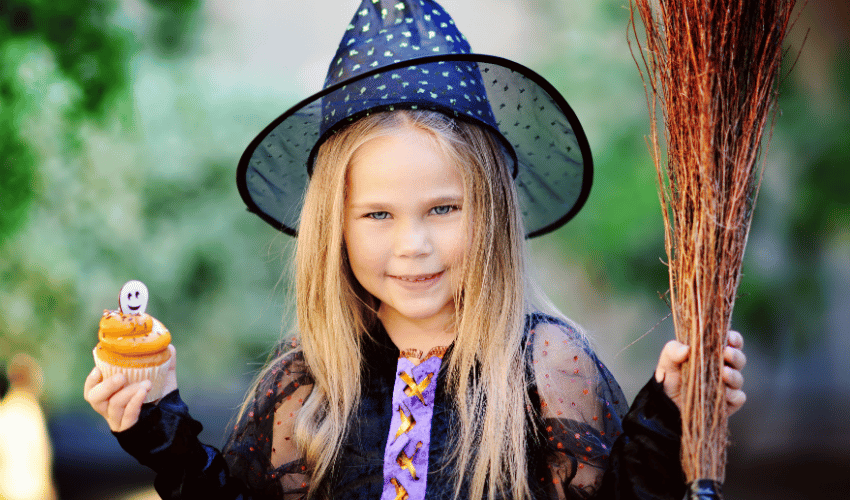 A fraction of the cost of store-bought costumes, DIY Halloween outfits are also oftentimes more creative and fun. In this list of the best homemade Halloween outfits we have collected ten creative and easy to make Halloween costumes. Many of these costumes can be made with supplies you already have, so if you are in a time crunch you can still create a fun costume.
And, not to worry, even if you are far from crafty, many of the costumes on this list require very little DIY skills. So, take a look, get inspired, and start your homemade Halloween outfit today!
List of the Best Homemade Halloween Outfits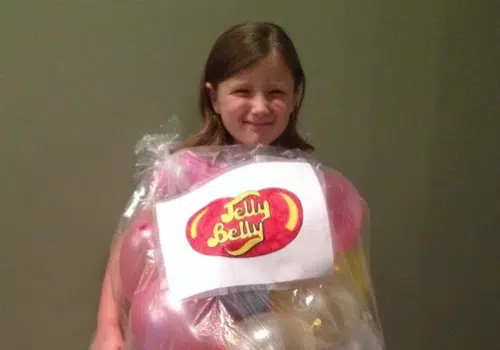 Bag of Jellybeans 
With just a clear trash bag and bag of balloons, you can transform into a giant bag of jellybeans. Once your balloons are blown up have someone help you package the 'jelly beans' into a trash bag that you have put on (slit the bag so both sides are open and then pull the bag up to your waist – once around your waist tuck one of the open ends into your waist band and leave the other open end available for 'jellybean' stuffing). Once your bag is filled with balloons cinch the bag loosely around your neck. For even more authenticity print out a Jelly Belly logo and affix to the front of your bag.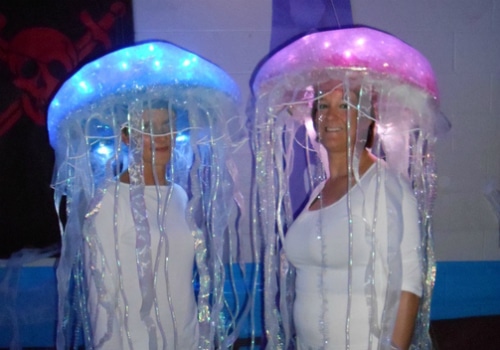 Jellyfish 
While this costume works best with a white or clear umbrella, a colored umbrella can also work in a pinch. To become a jellyfish, open your umbrella and affix long, streaming 'tentacles' (streamers work well, as do fabric strips). After affixing your tentacles hold your umbrella and float through the crowd, preferably dressed in the same color as your umbrella.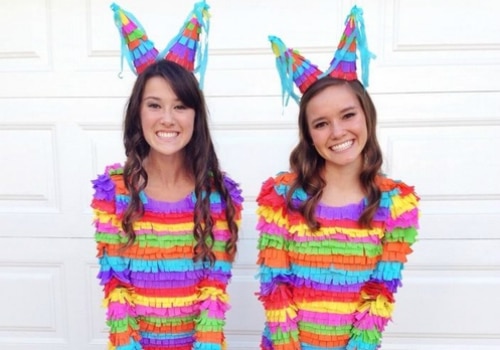 Piñata 
For a fun and festive costume why not be a piñata? To transform into a human piñata buy 3-5 different colors of streamers and cut into 4-5 inch strips. Once your strips are cut, hot glue the strips in whatever color pattern you would like onto a dress or shirt and shorts that you don't mind ruining. For even more fun, use your leftover streamers to make a donkey tail and ears.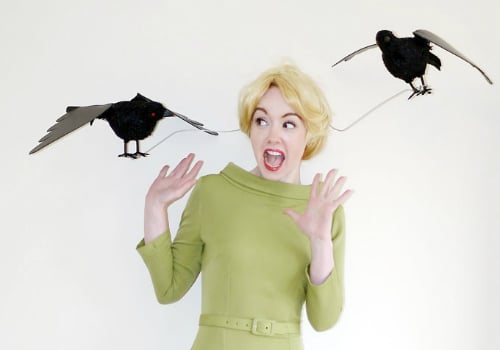 Tippi Hendren from The Birds 
To create this Tippi Hendren from The Birds look you will have to purchase some fake birds – party stores usually have them, especially around Halloween, and they are relatively inexpensive. Once you have 2-4 birds (or more, if you are feeling especially in the Halloween mood!) affix the birds with hot glue to clothes you don't mind ruining (Good Will, anyone?). Add in a few rips and tears, and perhaps some fake blood, and you will have everyone jumping at the sight of a bird.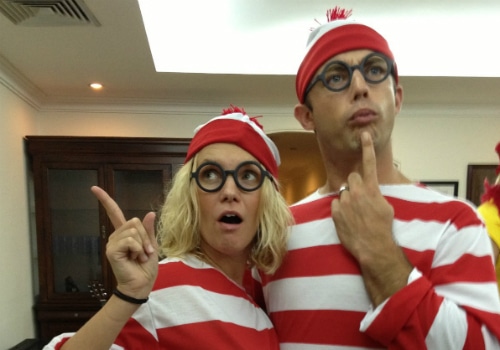 Waldo or Wilma 
For those who aren't DIY inclined, this costume is perfect. To transform into Waldo or Wilma from 'Where's Waldo' simply wear a red and white horizontally striped shirt, a white beanie with a red band (a piece of red felt can easily be attached to a white beanie with hot glue), and pair of black rimmed glasses (perfect for those who already wear glasses!). For added authenticity have a camera hanging from your neck – be warned, however, if you go to a party you may never be found!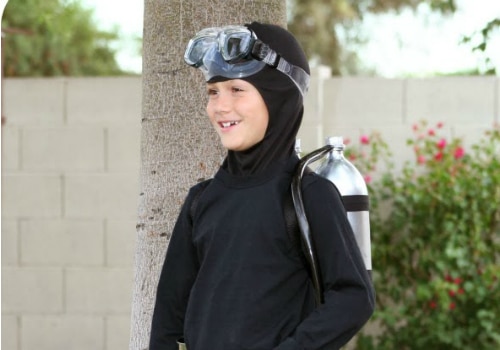 Scuba Diver 
Great for kids and adults alike, Parenting.com provides the perfect 'recipe' for a homemade scuba diver costume. To create realistic scuba diving gear kitchen items like metallic scouring pads, rubber tubing, and a 2-liter plastic soda bottle are used, while the 'wet suit' is simply black clothing with plastic safety goggles.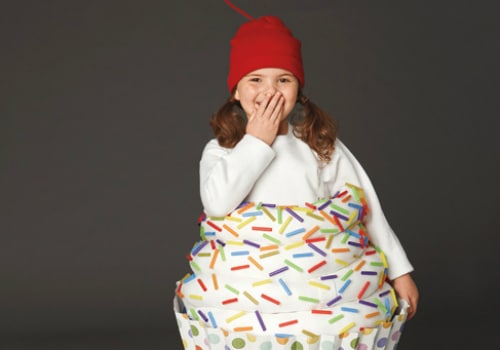 Cupcake 
Perfect for a younger child, a cupcake costume only requires a few main 'ingredients' to put together a great costume. With a costume this sweet, who needs candy? (But seriously, have some candy on hand for the kids or there will be trouble!)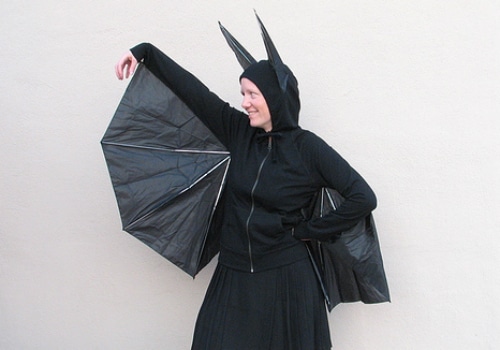 Bat 
With just a black hooded and zippered sweatshirt and a cheap black umbrella you can become the perfect Halloween bat. And thankfully, with detailed instructions taking the umbrella apart to form wings and ears and then attaching them to your sweatshirt is a breeze.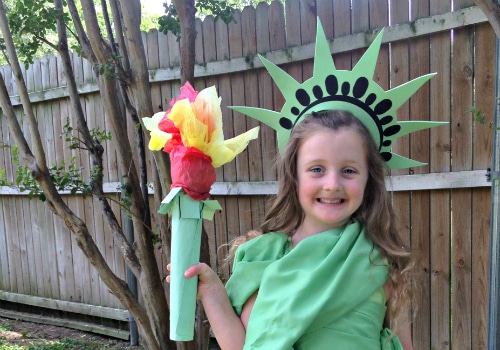 Statue of Liberty 
Have a set of light green sheets? Then you have almost all of the supplies needed to transform into Lady Liberty. Once you have draped your sheets into Lady Liberty inspired clothing, cut a green foam visor (found at almost any party store or craft store) to look like Lady Liberty's head piece. For added authenticity add a 'torch' to the outfit (a tissue paper covered flashlight works well).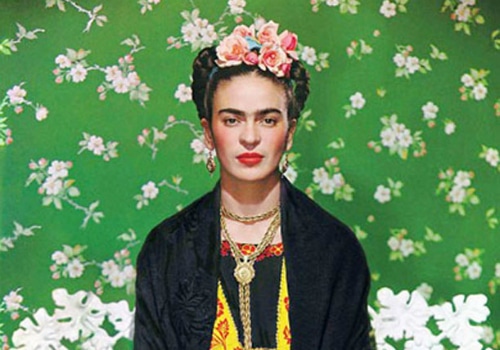 Frida Kahlo 
If you have been described as 'bohemian' you probably already have all the pieces needed to transform into Frida Kahlo. Simply pair a long flowing skirt with a loose shirt, add plenty of bangles, and few silk (or real) flowers in your hair and then darken your brows for a classic Kahlo look.
Best Homemade Halloween Costumes Conclusion
You would be surprised at the resources you have at your disposal when it comes to creating homemade Halloween outfits. Whether you choose something from this list or have gotten a good idea to tweak and improve on, we hope that we have inspired you to try a DIY Halloween costume this year.
We would love to hear how your costume turns out in the comments below as well!