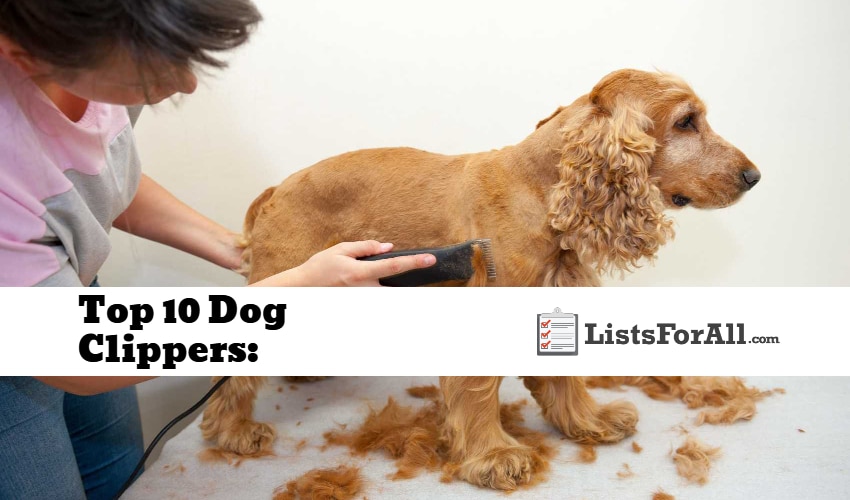 Best Dog Clippers: Helping Your Furry Friend Look Their Best
Dogs are man's best friends for a reason. They are loving, loyal, and always there to brighten your day. They also come with a lot of fur and hair that can sometimes end up everywhere. As house pets, this is not always ideal. So whether you are looking to keep the shedding to a minimum, cool down your pup in the summer, or want them looking their best, this list of the best dog clippers will allow you to do so.
You won't have to spend big bucks at the dog groomers, either. With a small investment in one of these clippers, you will be able to keep your dog looking its best for years to come. The added dog grooming savings and ability to keep your dog look its best year-round make investing in a pair of dog clippers a no-brainer.
As a reward for your dog sitting through their trimming or to help keep them entertained while they are groomed, make sure to visit our list of the best dog toys. You will be able to find the perfect toy for your furry friend.
Top 10 Dog Clippers:
Price: $32.99
Highlights: Ultra-quiet trimmer, powered by a Li-Ion Battery, and comes in an ultra-sleek design.
About Dog Clipper: These Oneisall clippers are powerful enough to take the place of any professional dog clippers on the market. A strong Li-ion battery powers a sharp ceramic blade as it cuts across a fixed steel blade. As a result, your dog is left with a no-fuss quick and clean cut.
Plus, while the clippers are in use, they only put out around 50db of noise. An ultra-sleek design, powerful yet quiet motor, and it comes with practically every accessory you will need- these are the reasons that make these some of the best clippers for dogs you can buy today!
Price: $51.95
Highlights: Aluminum alloy body, built to last, and provides a powerful battery.
About Dog Clipper: While you're out finding gifts for everyone else in your family, don't forget about your canine pal. With one-button use, a powerful battery, and low noise, your dog will love these Hansprou clippers.
What's more, the rugged aluminum-alloy body is stylish and built to last year after year. But that's not all; after you finish grooming your pet, the cutter head easily detaches for fast, convenient cleaning with water. That alone helps to make these some of the best dog grooming clippers you can find.
Price: $32.99
Highlights: A cutting-edge titanium-ceramic blade with 33 teeth, 3-4 hours of cut time, and an easy-to-read LCD power display.
About Dog Clipper: Give your canine buddy a professional dog clipper quality cut with these best-in-show clippers! Any list of the best clippers for dogs available today will definitely have these stylish clippers from Holdog on it! These professional quality dog clippers feature a remarkable 33 teeth blade made from titanium-ceramic.
But that isn't all; you also get 3 to 4 hours of non-stop cutting thanks to a powerful Li-ion battery and an ultra-strong 3-speed adjustable motor. Plus, you will never need to worry about your battery dying in the middle of a cut, thanks to an easy-to-read LCD power display.
Price: $43.50
Highlights: Industry-leading torque, self-sharpening blades, color-coded hair guides.
About Dog Clipper: Your dog is your best friend. So, why not get him the best dog clippers you can? Well, one of the best would be these clippers from industry leader WAHL. Offering 30% more torque than many of their competitors, these clippers will make short work of even the thickest dog's coat. On top of that, self-sharpening blades and color-coded hair guides will have your pet looking like you used professional clippers on him!
Price: $34.99
Highlights: All-in-one kit, powerful and quiet, and durable.
About Dog Clipper: This professional-quality dog clipper and nail trimmer kit from Ceenwes has everything you need to give your dog a salon-quality cut. You get 11 unique tools designed to keep your dog looking great. A few examples include the clipper, cleaning brush, stainless steel comb and scissors, four clipper attachments, and more!
You'll also get one of the best dog nail clippers and files available. Incredibly quiet and powerful clippers with a durable quality nail trimmer, it's no wonder these are some of the best dog clippers and nail trimmers available today. Plus, the clippers can be used with its included power cord or run off its powerful battery and Precision motor.
Price: $124.99
Highlights: The 5-in-1 clipper, 80-minutes of cut time, and can handle any dog breed.
About Dog Clipper: There is a reason the name WAHL shows up in so many best dog clipper lists; they work! This durable 5-in-1 clipper, for instance, it's cordless, and its no-maintenance motor will keep you cutting for a full 80-minutes non-stop. However, if your cut takes a little longer, the clippers come with a second back up battery that's ready to be installed quickly.
Maybe the best part, these clippers can handle the hair of any dog breed you have. So give them a try. And after you give these professional-grade dog clippers a try, you'll see why so many people trust the WAHL name.
Price: $29.99
Highlights: LED display and powerful Li-ion battery.
About Dog Clipper: These professional clippers come ready to tackle any breed you can throw at them. That's thanks to the ten included guiding combs that make finding the right size for your dog a snap. Plus, a durable, washable body design helps make cleaning up quick and easy. Maybe one of the best things about these clippers is the price.
If you're looking to save money, these are quality dog clippers that won't break the bank. Yabife has designed these trimmers to be among the best dog grooming clippers on the market today. Try them out; your pet will love them!
Price: $42.99
Highlights: Comes with a 16-piece clipper kit, 8-foot power chord, and a two-year limited warranty.
About Dog Clipper: Constantly producing some of the best dog clippers on the market, WAHL has done it again with these stylish trimmers. This professional kit comes packed with 16 accessories. This guarantees you will have what you need to keep your furry friend looking their best.
The attached 8-foot power cord allows the clippers to operate at 7,200 strokes per minute. This makes short work of short and medium-length pet hair. All of this is backed by a 30-day risk-free 100% satisfaction guarantee and a two-year limited warranty.
Price: $64.99
Highlights: Power when you need it with a 15-minute quick charge.
About Dog Clipper: Professional clippers need to be able to handle the toughest coats. And that's precisely what these clippers from WAHL can do. A powerful lithium-ion battery powers the clipper's self-sharpening blades for up to 2-hours of continuous cutting, allowing for a smooth, snag-free cut every time.
These full-body clippers are powerful enough to handle all dog breeds. For this reason, they are among the best dog clippers available on the market today.
Price: $32.99
Highlights: Provides an all-in-one hair and nail grooming kit.
About Dog Clipper: This kit from Pet Union contains one of the best dog grooming clippers available today. But that's not all; they have also included one of the best dog nail trimmers you can find, as well. These low noise, low vibration clippers provide a smooth precision cut every time.
An easy-to-adjust ergonomic design helps you make quick work of the thickest coats. We all love treating our four-legged friends. So, why not give this best-in-show dog clipper kit a try today!
Best Dog Clippers Conclusion
These clippers are perfect for any dog breed, and because they are specific for dogs, they have a powerful but quiet motor. This will allow for easy trimming and will keep your dog from getting anxious from a loud buzzing noise in their ears.
And let's be honest, we love our dogs and would be willing to do almost anything for them. So finding the perfect pair of dog clippers is an easy choice. And with this list highlighting the best ones, it is even that much easier!
For even more dog-related lists, our lists of the best dog collars, best dog food brands, and best dog shampoos will provide some valuable resources for you.
Have you used any of these dog clippers before? If so, please feel free to comment below with your feedback.