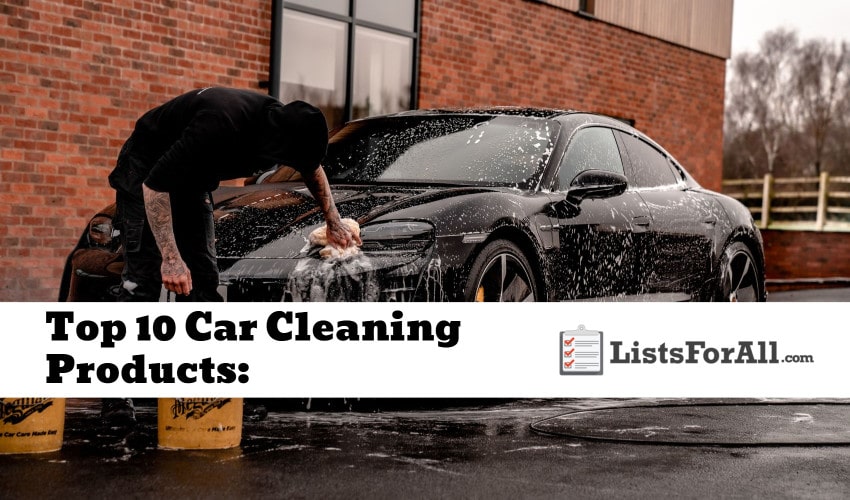 Best Car Cleaning Products: Keeping Your Ride Clean and Looking Its Best
This list of the best car cleaning products will ensure that your vehicle stays clean and looking its best. Along with keeping your car clean, they will also help save you time while cleaning. With the right tools, any job becomes that much easier and more fun to complete. This list of car cleaning products has it all, from the right type of microfiber cleaning towel to a cleaning goo that gets in all the small cracks and crevices.
Most of the car cleaning items on this list are reasonably priced and will last use after use. So if you invest now in a few of these car cleaning products, you will have the needed tools to keep your car looking great for a long time to come.
After you have finished with this list, make sure to visit our list of the best car accessories and best car insurance websites. These lists will make sure that all of your car needs are covered.
Top 10 Car Cleaning Products:
Price: $9.99
Highlights: Cleans in between all the small areas in your car.
About Car Cleaning Product: Safe and eco-friendly, this dust-removing putty is perfect for the small, hard-to-reach places in your car. All you need to do is press the cleaning gel into the area you want to be cleaned, pull it out, and all of the dust and dirt will be trapped within the gel. The gel won't leave any residue, and if stored correctly, you will be able to reuse this car cleaning product a number of times.
Price: $29.99
Highlights: Allows for a professional car wash soap spray.
About Car Cleaning Product: This foam gun hose extension is a must when it comes to washing your car. All you need to do is fill up the bottle with the desired car wash soap, and the mixture of water, air, and soap will provide the perfect car washing foam mixture. After that, it is as simple as pointing and spraying.
This will make washing your car a breeze and will provide a much cleaner look at the end. Along with the hose extension, you will also get a car wash mitt that will allow you to quickly and efficiently scrub away all of the dirt and grime from your car's exterior.
Price: $24.99 (12 Pack)
Highlights: Absorbs up to 10x their weight in liquid. Long-lasting and reusable.
About Car Cleaning Product: After washing your vehicle, it is important to quickly and effectively dry your vehicle. If not, you will have the dreaded water spots that will ruin your freshly washed car look. These professional-grade microfiber towels will allow you to quickly dry your car to perfection and remove any potential water spots. And while you could use an old towel from your house, these microfiber towels absorb up to 10x their weight in liquid and will make sure not to leave any fabric particles behind.
Price: $12.99
Highlights: Cleans and protects interior surfaces.
About Car Cleaning Product: If you want your car's interior to look its best and stand up to the test of time, this car cleaning product is a must. The cleaning wipes will help remove any dust and dirt, but they will also leave a shiny, protected surface.
This will allow for a new car look and feel and make sure that your car's interior is protected for years to come. The leather wipes will help to protect any leather surfaces in the same way. This will be critical when it comes to protecting the leather in your car from cracking and peeling over time.
Price: $22.95
Highlights: Professional-grade car wash soap mix.
About Car Cleaning Product: Having the right car wash soap makes all the difference. This soap will allow you to make sure that all the dirt, dust, and grime are captured and then washed away when rinsed. Along with washing, this soap will also help condition your vehicle's exterior and will leave it looking shiny and clean. With a high concentration, this car wash soap will last a while as well. You will only need a small amount of soap each time you go to wash your vehicle.
Price: $19.95
Highlights: Helps to remove and diminish small scratches.
About Car Cleaning Product: Unfortunately, scratches are a part of driving your vehicle. Whether it is from rocks on the road, other car doors, etc., new scratches seem to regularly appear on the surface of your car over time. With this car cleaning product, though, you will be able to minimize and even remove some of the small scratches on your car. This will keep your paint job looking its best and have you feeling great about the look of your car.
Price: $5.99
Highlights: Traps dust and dirt for a better interior and exterior cleaning.
About Car Cleaning Product: When it comes to cleaning up dust and small amounts of dirt from your car, you need a towel that will capture the unwanted debris; not just spread it around or knock it on the floor of your car. This microfiber cleaning towel will do just that. It will clean and trap the dust in your car. After that, shake it out outside your car and continue on. It is also great for cleaning any small areas of dust or dirt that may have been missed when washing the exterior of your car.
Price: $34.99
Highlights: Portable and easy to store car vacuum.
About Car Cleaning Product: One of the best ways to keep the interior of your car clean is to have a vacuum handy to clean up any small messes that may occur. You could use a vacuum from your home, but this one is so much easier to use and store.
So rather than waiting and letting the mess build up over time and then vacuuming, you can use this portable vacuum that stores easily in the trunk of your car. With multiple heads and high suction power, this vacuum will help to quickly remove and eliminate crumbs or any other small spills in your car.
Price: $19.97
Highlights: Full array of car cleaning sprays and foam with a drying towel.
About Car Cleaning Product: This car cleaning product is really multiple products in one, but all of them are needed to keep your vehicle looking its best. From windows to interior to tires, these car cleaning sprays will have something for it all. You will be able to clean and protect your interior, remove smudges from your windows, and then put a nice shine on your tires. And it is all as easy as point, spray, and wipe.
Price: $34.95
Highlights: Traps and cleans dust and dirt from the interior and exterior of the car.
About Car Cleaning Product: The same way that you would dust the interior of your house is the same way that this car cleaning tool works. You will be able to trap dust and dirt within the microfiber duster and then dispose of it away from your vehicle.
This works great for both your car's interior and for the finishing touches after washing the outside of your vehicle. These microfiber brushes also come with a 100% satisfaction guarantee. So there is really no harm in trying them out and seeing how well you like them.
Price: $29.99
Highlights: Full car cleaning kit.
About Car Cleaning Product: If you are looking for a car cleaning product that will cover all your car cleaning needs, this is it. This complete car cleaning kit comes with 22 different pieces that will allow you to keep the interior and exterior of your car looking their absolute best.
All of these car cleaning tools will also help save you time and make sure that the job is done correctly. From tools that help clean the vents in your car to a tool that removes small rocks stuck in your tire tread, you will have everything you need with this car cleaning kit.
Best Car Cleaning Products Conclusion
All of these car cleaning products are going to allow you to enjoy your car like never before. They will allow you to have a permanent new car look, smell, and feel. This will allow you to enjoy driving your vehicle and have people asking what you do to keep your car looking so good all the time.
The other great thing about these car cleaning tools is that they make keeping your vehicle clean much easier. With a portable vacuum in your trunk, a few crumbs can be sucked up in a matter of seconds. Or, if you want to give your car a quick dusting, the microfiber towels will be able to handle that in no time flat.
So make sure to take advantage of these great car cleaning products and enjoy your vehicle for years to come on all the road trips that are ahead of you.
Have you used any of these car cleaning products before? If so, we would love to hear your feedback on them in the comments below.