Best Beaches in Florida: The Top 20 List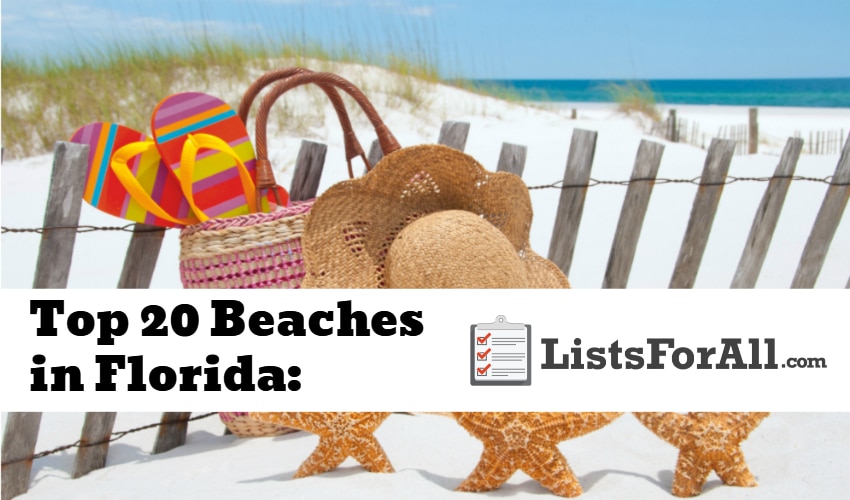 Best Beaches in Florida: Finding Your Slice of Paradise
With their sunny days and warm temperatures, Florida beaches are some of the best beaches in the world. From the Atlantic to the Gulf, Florida beaches come in all shapes and sizes. Some beaches are quintessential "old Florida" with an easy-going and relaxed vibe, while other beaches boast dining and nightlife that will satisfy the most discerning visitor.
No matter your budget or taste there is a Florida beach for you on this list that is going to fit your needs. Read on and choose the beach (or beaches!) that best fit you! After that checkout our list of the best travel sites and book your trip to one of these great beaches.
Top 20 Beaches in Florida:




Anna Maria Island 
Less built-up and "touristy" than many other beaches, Anna Maria Island offers a homey and idyllic beach destination. Visitors looking to get away from the hustle and bustle typical of many beaches will appreciate Anna Maria Island and all it offers. With its old Florida charm and its delicious seafood, Anna Maria Island is not to be missed.
More Resources and Info:




Sanibel Island 
Sanibel Island, along with nearby Captiva Island, is gem among the southwest Florida beaches. With bike trails aplenty and unique dining and shopping options, Sanibel Island has a relaxed and picturesque atmosphere. The island also boasts great shelling and a wildlife refuge where visitors can leisurely canoe through protected wetlands.
More Resources and Info:




Clearwater Beach
A short drive west of Tampa, Clearwater Beach is a perennial favorite with beach goers. Home to Winter the dolphin, one of the best resorts in Florida, and clear gulf water, Clearwater Beach has something for everyone. Be sure to check out some of the top-rated dining establishments lining the beach – everything from freshly caught grouper to upscale fine dining is available.
More Resources and Info:



Amelia Island
Located in northeast Florida, Amelia Island is both picturesque and inviting. Between the famous beach horseback rides and Segways, taking in the island's scenery is a breeze. Historic bed and breakfasts and unique boutiques add to the charm of Amelia Island.
More Resources and Info:




Fort De Soto North Beach
Voted the best family beach in the US by Parent magazine, Fort De Soto North Beach is the perfect laid-back Florida beach. Just south of St. Petersburg, the beach is part of the Fort De Soto Park, a group of five islands complete with a museum and fort. In between exploring the history of the fort, beach goers can find shells of all shapes and colors on this beach, making it perfect for shell enthusiasts.
More Resources and Info:




Panama City Beach 
Consisting of 27 miles of beach front, Panama City Beach is going to allow you to be part of the crowd or to find your own secluded stretch of beach. Pier Park is going to be perfect for beach goers that enjoy activity with its numerous shops and restaurants. Regardless of where you go on the beach, he powdery white sand and changing blue color of the water are the real draws of Panama City Beach.
More Resources and Info:




Daytona Beach
Home to the Daytona 500, Daytona Beach is equally famous for its amazing beaches. With great resorts, restaurants, and even amusement rides, Daytona Beach offers something for everyone. A spring break destination for college students but also a nice relaxing place for families, you are going to be able to find whatever you are looking for at Daytona Beach.
More Resources and Info:




Delray Beach  
Located between Boca Raton and West Palm Beach, Delray Beach is a worthy beach all on its own merit. With first-class resorts, great dinning, shops and more, Delray Beach offers plenty of activities. Now add in the scenic beaches and calm refreshing water, and you have a mix that is sure to entice beach goers from all over.
More Resources and Info:



Caladesi Beach 
Looking for the island life? Caladesi Beach is on one of Florida's few remaining undeveloped barrier islands. Accessible only by boat (don't worry there is ferry that will take you there if needed), Caladesi Beach is going to be perfect for those wanting a quieter beach going experience. Add in a kayaking trail and plenty of nature trails, and you will be able to go exploring as well as sit on the beach and soak up the sun.
More Resources and Info:



St. George Island
Another of the island beaches on this list, St. George Island is going to offer miles of uncrowded beach that is going to be perfect for relaxing or exploring. With no high rises or chain stores allowed on the island, you can trust that St. George Island is unspoiled and will allow you to experience the feel of a great beach without all of the over development that accompanies some beaches.
More Resources and Info:




St. Augustine Beach 
St. Augustine Beach consists of 42 miles of beach front and is comprised of smaller beaches that are going to allow you to pick and choose according to your preference of beach. Whether you are looking for a charming beach community feel or want to sit and enjoy the beach with no one around, St. Augustine Beach is going to offer something for everyone.
More Resources and Info:




Marco Island
Florida boasts 10,000 islands and Marco Island is the largest of these islands. It is located on the Gulf of Mexico and consists of sun-washed white sand beaches, tranquil waters, and an easy paced feel. Along with having great beaches for relaxing or fun in the sun activities, Marco Island also offers first-class resorts, shopping, and plenty of great restaurants to choose from.
More Resources and Info:




Venice Beach
Located on Florida's white-sanded Gulf Coast, Venice Beach consists of 14 miles of beach front. Perfect for sunbathing, swimming, fishing, and more, you will be able to spend all day enjoying the beach and weather. Add in the Italian architecture of the city (where it gets its name from) and the great golfing, and it is easy to see why Venice Beach is one of the featured beaches on this list.
More Resources and Info:



Fort Lauderdale Beach
For a less crowded atmosphere than nearby Miami Beach, Fort Lauderdale is the place to be. Clean white sand abounds here, and the dining strip is truly special. Rent a bike and cruise the boardwalk to experience all that Fort Lauderdale Beach has to offer.
More Resources and Info:




Pensacola Beach
With its sugar-white sand beaches and emerald-green water, Pensacola Beach is a favorite with many. Its laid-back vibe and variety of activities make it a relaxing, but fan beach destination. Pensacola Beach also offers an educational and informative Eco-Trail where visitors can learn about local plant and animal life.
More Resources and Info:




South Beach
Part of Miami Beach, South Beach is renowned for its nightlife and white sand beaches. Its iconic shopping and dining strip complete with Art Deco buildings has been featured in many a film or television show. South Beach's beautiful shoreline and nightlife make it an ideal beach for those looking for a good time.
More Resources and Info:




Cocoa Beach
An easy hour drive from all of the Orlando attractions, Cocoa Beach is home to one of the largest surf shops in the world. And for good reason too – Cocoa Beach's location on the Atlantic side of Florida which allows surfers to catch better waves than they would on the Gulf side. The beach's close proximity to Port Canaveral, a leading cruise port, also allows visitors easy access to the Caribbean.
More Resources and Info:




Siesta Key Beach
Located in southwest Florida, Siesta Key Beach is consistently rated as one of the best beaches in Florida. Its relaxed vibe and soft, white quartz sand make it a family favorite year in and year out. While there be sure to get in some fishing and have some ice cream from one of the many delicious ice cream shops along the beach.
More Resources and Info:



Key West Beach
As the southernmost tip of Florida, Key West Beach is a taste of the Caribbean. There are many activities to choose from: kayaking, world class fishing, snorkeling, and boating. Key West also has an active nightlife, giving visitors something to do almost 24/7.
More Resources and Info:




Destin Beach
Originally a barrier island located off of the Florida panhandle, Destin Beach is now connected to mainland Florida. As part of Florida's "Emerald Coast" its emerald-green water attracts visitors from near and far. While there are many activities to choose from, dolphin watching and a thriving art and entertainment scene are favorites for many.
More Resources and Info:
Best Beaches in Florida Conclusion
With pretty much the entire perimeter of the state of Florida touching water, it makes sense that there would have some pretty amazing beaches located there.
So whether you are a Florida native, or looking to plan a vacation, this list of the best beaches in Florida is going to provide you with a few different beaches that you definitely need to visit.
Have you been to any of these beaches? Let us know how it was in the comments below.