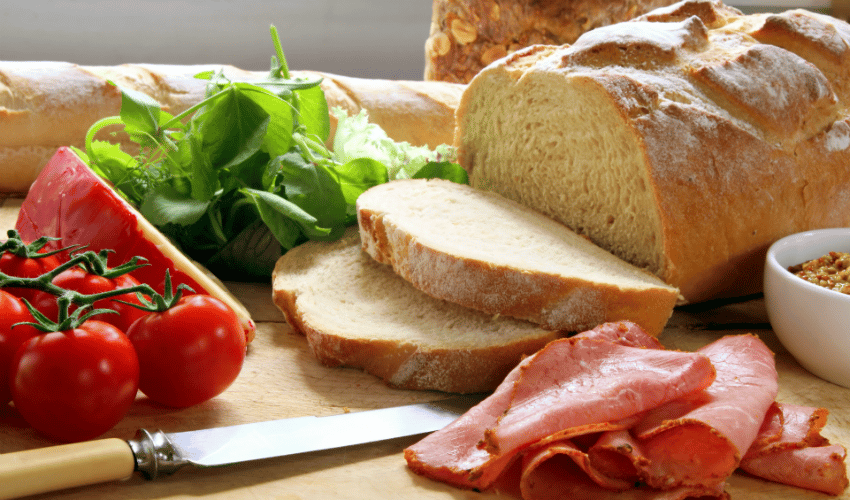 Sandwiches don't have to be boring or blasé – tasty and creative sandwich combinations abound, you only have to be willing to put down the peanut butter and jelly. In this list of the best sandwich recipes, we detail ten delicious sandwich recipes.
Some of the recipes are classic, well- executed sandwiches, while others are fun and inventive. Many of the sandwiches can also easily be prepared ahead of time, making them the perfect food for parties or busy families.
Take a look through our picks for inspiration (and a sudden craving for sandwiches!), and while you are at it, peruse our list of the best grill recipes or our list of the best dessert recipes for even more inspiration.
List of the Best Sandwich Recipes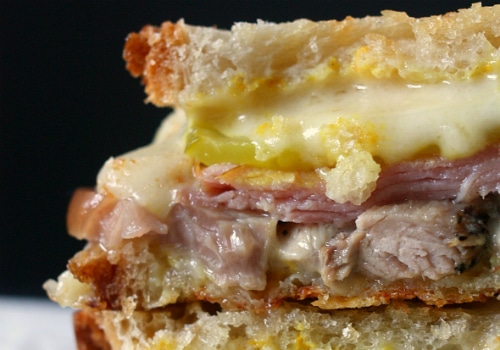 Cuban Sandwich 
Cooked low and slow, this Cuban sandwich is simple and delicious. The included crispy roast pork recipe makes the sandwich, and the ham, pickles, Swiss cheese, and yellow mustard only enhance the pork's flavor. The crispy roast pork can also be used in a variety of applications, so make a lot, and use it for sandwiches and more.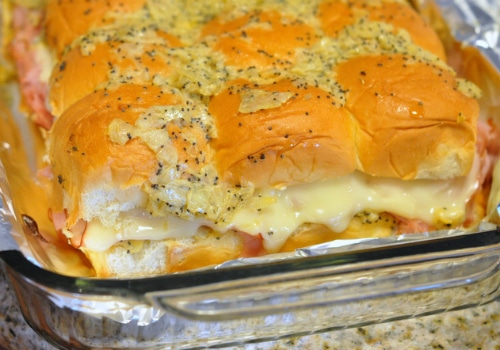 King's Hawaiian Roll Ham Sandwiches 
This classic party sandwich is a breeze to make and will satisfy even the most discerning of party goers. The King's Hawaiian Roll ham sandwiches also freeze well, making them a nice dish to make ahead. In addition to Hawaiian rolls and ham, be sure to be have butter, onion, poppy seeds, Dijon mustard, and Worcestershire sauce on hand when you make these delicious sandwiches.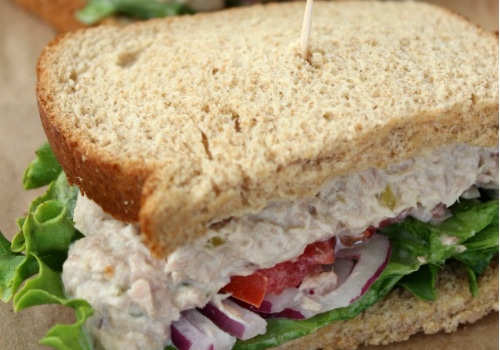 Copycat Panera Tuna Salad Sandwich 
Panera is known for having tasty sandwiches, especially their tuna salad sandwich. Thankfully, with this copycat recipe, you can enjoy a very close replica without ever leaving your home. The 'secret' ingredients are Dijon mustard and honey wheat bread, so make sure these ingredients are on hand.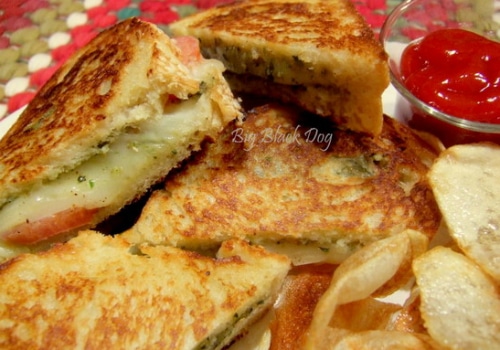 Basil and Mozzarella Grilled Cheese 
Inexpensive, easy to make, quick, warm, and delicious – grilled cheese sandwiches are popular for good reason. In this basil and mozzarella grilled cheese recipe, the classic grilled cheese is kicked up a notch with the addition of homemade basil spinach pesto. Make a big jar of the pesto and you can eat these basil and mozzarella grilled cheese sandwiches every day of the week!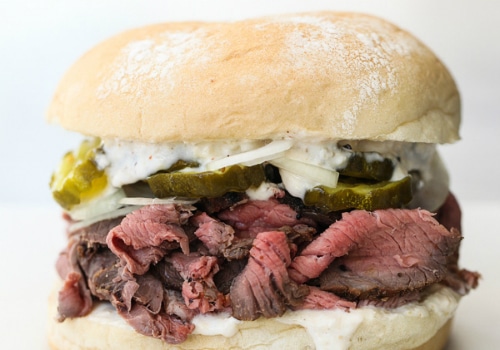 Sirloin Steak Sandwiches with Horseradish Sauce 
This sirloin steak sandwich with horseradish sauce recipe is truly special. The meat is tender, but has a nice crust, and the horseradish sauce with the crunchy sweet onions makes each bite better than the next. And, if you have leftover meat, you could easily make French dip sandwiches, or any other dish that calls for steak.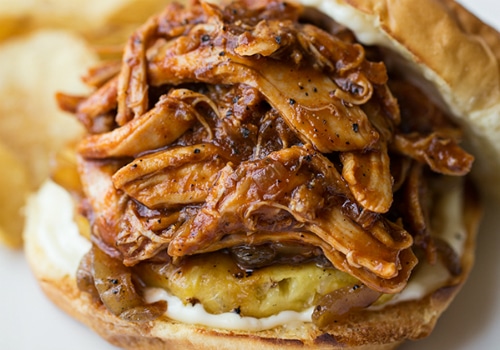 Hawaiian BBQ Pulled Chicken Sandwiches 
Sweet, spicy, and smoky, this Hawaiian BBQ pulled chicken sandwich recipe is full of flavor. Rotisserie chicken can easily be used in this recipe, and the addition of garlic, BBQ sauce, pineapple juice, and sweet onions ensures that this sandwich is anything but run of the mill.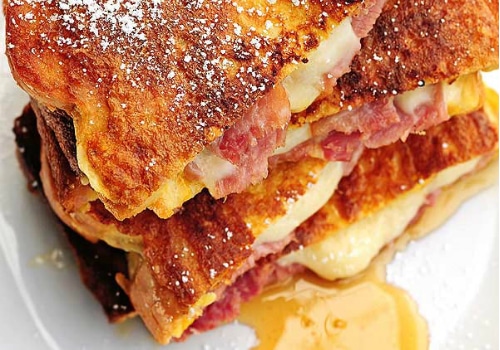 Monte Cristo Sandwich 
Great for breakfast, lunch, or dinner, this Monte Cristo sandwich is the perfect decadent sandwich. Made of ham and cheese with a bit of mustard and mayo, the Monte Cristo is dipped in egg and cooked like French toast. For a nice sweet and savory combination, try serving the Monte Cristo with preserves or powdered sugar.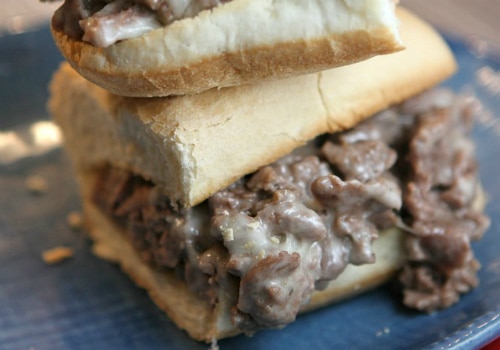 Philly Cheese Steak Sandwich 
This Philly cheese steak sandwich is all about the meat – the skirt steak is frozen and then shaved into small pieces prior to cooking. Cheese and optional sautéed peppers and onions round out the sandwich's insides. These sandwiches can also be wrapped in foil and kept warm in the oven until you are ready to eat, making them an ideal sandwich for large crowds.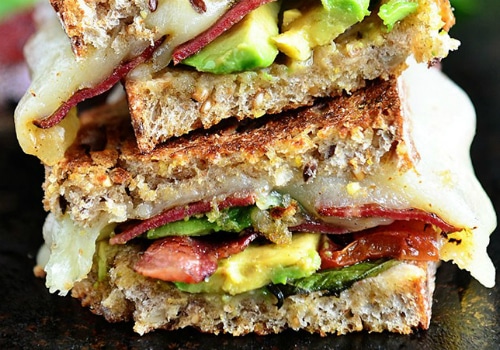 Turkey, Bacon, and Avocado Grilled Cheese 
Think turkey BLT meets grilled cheese with the addition of delicious avocado and basil, and you have this easy to make, delicious, and filling sandwich. Great anytime of the year, this turkey, bacon, and avocado grilled cheese sandwich is especially nice in the summer because you can enjoy a warm meal without heating up the oven.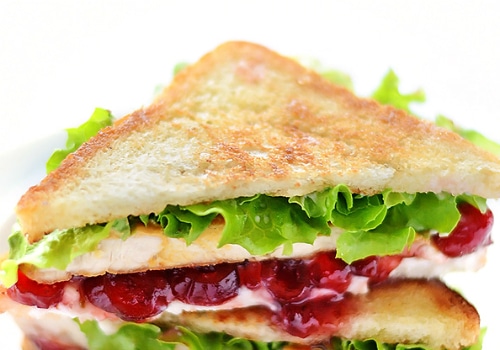 Cranberry Cream Cheese Turkey Sandwich 
Whether you have holiday leftovers, or just really enjoy the flavors of the holidays, this cranberry cream cheese turkey sandwich recipe is definitely a recipe worth trying. Toasted bread spread with cream cheese, cranberry sauce, and red chili flakes is the perfect complement to the turkey, and the optional additions of lettuce, mustard, and mayo ensure that you have a flavorful sandwich with every bite.
Best Sandwich Recipes Conclusion
If creating this list has showed us anything it was that not all sandwiches are created equal. Having the right combination of cheese, bread, meat, etc. can make such a big difference. Add in seasoning, heat, and sauces and you are talking about a whole different ball game than just throwing something together from your fridge.
We hope that this list includes your next favorite sandwich, and we would love to hear your feedback on any of these great recipes below in the comments!